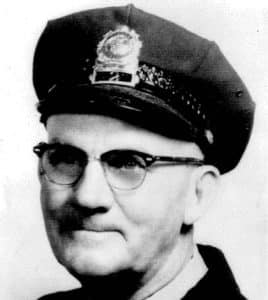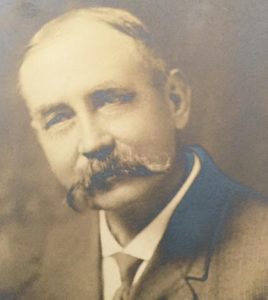 "Fifty two years ago, my grandfather, Sgt. Alfred Descher of the Columbia Police Department, was killed in the line of duty. Until now, his sacrifice was never formally honored."
Those were the words Sgt. Descher's grandson, Jim Descher of Wildwood, Mo., expressed on Facebook after witnessing the Monroe County sheriff's and Columbia police departments honor his fallen hero during a ceremony last Tuesday at the Monroe County courthouse.
"I wish my dad could have been there today," Jim said. "He was only 25 years old when his father was killed, and I don't think he ever really got over that. Even up to the time of his own death 15 years ago, Dad still choked up when he spoke of that night in February 1964."
Additionally, the ceremony recognized special Columbia Police Officer William Rauch, who died in much the same manner as Descher.
Rauch's grandson, Bill, went to the courthouse to observe the ceremony and receive recognition for his grandfather.
"I was very pleased with it," Bill said. "I thought it was remarkable that they thought enough of him to recognize him in that way."
Both officers died from traffic accidents while performing their responsibilities as police officers. Descher died in February 1964, when a semi trailer struck him at the scene of an accident on Route 3 outside of Columbia city limits.
Meanwhile, a car struck and killed Rauch in September 1924, while he was directing traffic around an accident at Main and Cherry streets.
"A lot of people think of really dangerous situations (for officers) like getting shot, but the truth is that vehicles out along the roads are actually most dangerous," Columbia Police Chief Jerry Paul said.
As far as Columbia goes, gunfire and violence are not major safety concerns. This is a truth for which Paul thanks previous Columbia officers and their service.
"I think it's really important as far as officials giving respect to officers in the past that helped shape the community today," Paul said. "We've inherited a safer community because of them."
Monroe County Sheriff Neal Rohlfing appreciates the support of community members that make his job less burdensome.
"Monroe County is a community of great support and trust," Rohlfing said. "When you tell them something happens, it all works out."
Rauch's grandson served on the force in Columbia as well, and is retired after 26 years. He served in many capacities such as paramedic and was involved in crime scene work.
"It was the best experience of my life, and I mean that sincerely," Bill said.
Bob Hill of Hill Monument Company in Columbia created plaques for each officer that are displayed at the Monroe County Courthouse in the main lobby.
"We had an amazing turnout for the ceremony (last Tuesday) for Sgt. Descher and Special Police Officer Rauch, who are the only documented law enforcement officers who died in the line of duty in Monroe County," Rohlfing posted on Facebook. "It was great to see family members of these officers at the ceremony and to pay tribute to them for their loss."