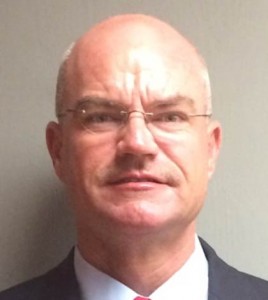 The ex-wife of former Columbia Police Chief Joe Edwards filed a civil lawsuit in federal court Friday against the city of Columbia.
In the suit, Carla Edwards alleges Joe Edwards, while acting as Columbia's chief of police, unlawfully accessed her cellphone to obtain private communications such as texts and emails. He did this by utilizing police resources and technology, the filing claims, including the use of various external items of software and hardware generally known as "spyware."
This is believed to have occurred last September. In October, Carla Edwards claims, then-chief Edwards and unnamed city employees compiled this information on a thumb drive and provided it to various other public employees in various positions of authority, who then utilized the information to contact local and state public agencies, including the Department of Children and Family Services, in order to "embarrass and institute investigations" into her private matters and family "in an attempt to adversely affect her employment status," according to the suit.
She seeks monetary compensation for these alleged violations of the state's eavesdropping statute, the federal stored communications act and illegal search and seizure in violation of the Fourth Amendment of the U.S. Constitution.
The city declined to comment on the case.
"Due to the ongoing investigation and complaint filed by Ms. Edwards, the city is unable to comment on anything related to these matters," Columbia Mayor Kevin Hutchinson said.
Joe Edwards resigned his post as chief in May. The 24-year CPD veteran was placed on administrative leave in February following the opening of an investigation regarding a domestic matter by the Monroe County Sheriff's Department. He and Carla Edwards are recently divorced and are the parents of two teenage daughters. The case was ultimately turned over to a special prosecutor, who has to date declined to file any charges against Edwards. The Special Prosecution Unit has three years to file felony charges and 18 months to file misdemeanor charges.
Jerry Paul, who had served as deputy chief under Edwards and is a 22-year CPD member, was appointed chief of police.
For a May article on Joe Edwards' resignation as police chief, click here.