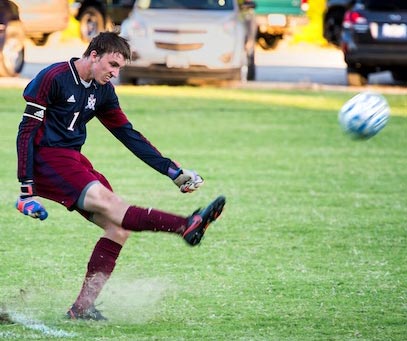 Waterloo is hoping to stay at the top of the mountain. Gibault is climbing to reach that peak yet again.
The Bulldogs and Hawks opened their seasons with a cross-town rivalry showdown Monday night at Oerter Park in Columbia. While no team emerged victorious, there was plenty of action to entertain the crowd.
The Bulldogs are the reigning Class 2A state champions, and came out strong to open their 2016 campaign. Waterloo applied pressure throughout the game, but the Hawks were up to the challenge in a 0-0 tie.
Trevor Davis, a 6-foot-3 senior who also stars for the Hawks in basketball and baseball, excelled in net for Gibault on Monday night, turning away several Waterloo scoring chances.
Waterloo's Justin Kohler kicked a hard shot from about 10 yards away in the 60th minute that was knocked away by Davis. A breakaway attempt by Waterloo's Dawson Holden in the 75th minute was also stopped by the Gibault goalie.
Davis made seven total saves in the game.
The Hawks, who have four state soccer titles to their credit, nearly came away with a victory in the final minute. A long free kick from Gibault midfielder Kyle Rocca was saved by Waterloo goalkeeper Trevor Coplin.
Coplin made five total saves in the game.
Gibault senior Dalton Scace, who scored 22 goals last season, had a couple of quality scoring chances but couldn't quite finish.
The Bulldogs showed flashes of its championship pedigree throughout the game and received 12 corner kicks, but were just not able to connect for a score in the end.
Waterloo, who finished 25-3-1 last season en route to its first state title, hosted Belleville East on Tuesday and will compete this weekend in the Carbondale tournament — which it won last year.
Gibault, who finished 13-10 last season and returns a strong nucleus in 2016, played Marion at Belleville West on Tuesday. The Hawks play at Saint Louis University High School on Tuesday.
Read full articles on both squads in the Fall Sports Preview section of our Aug. 24 newspaper.