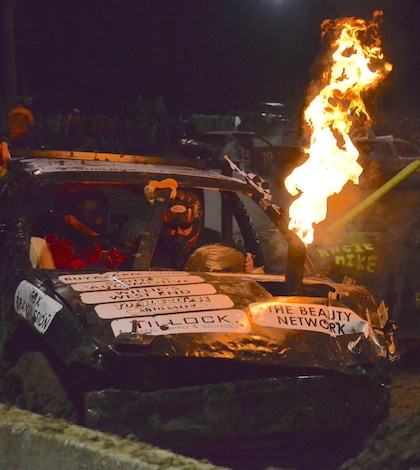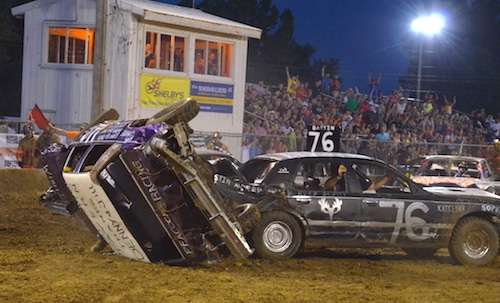 The Monroe County Fair auto demolition derby delighted thousands at the fairgrounds once again, featuring four classes of car crushing action Friday night.
The bone stock division started off the evening, and the first crowd-pleasing moment came via a huge reverse T-bone blow delivered by the black #76 car driven by Perry Battin of Waterloo on the purple #42 car driven by Glen Lutman of Ellis Grove. The force of the hit knocked Lutman's car on its side, putting firefighters in motion to push it back on all four wheels.
Lutman insisted he and passenger David Lutman were fine, and the race resumed. The Lutmans ended up getting the last laugh over Battin and passenger Brad Yearian, edging them for first place. Alex Schilling of Waterloo placed third.
The compact division was next, and a special feature of this event was the participation of a benefit car in honor of Kolton May — a derby driver who was seriously injured in a car crash near Fults in February. With Tony Brellinger of Hillsboro, Mo., as passenger, Kenny Schmidt of Red Bud drove the benefit car as May watched on in excitement. Brellinger and his wife played a large role in organizing the benefit, the proceeds of which will help pay for May's medical bills.
"It's not the same as drivin', but I sure had fun watchin'," May said with a smile afterward.
Ultimately, the steering went out on the benefit car, knocking it out about midway through. The compact class ended in a rare tie between the orange #999 car driven by Mike Schilling of New Athens and black #01 car driven by John Lohman of Frohna, Mo. Both cars traded blows for several minutes as the final two still running, but ended up stalled and smoking just a few feet from each other at the finish. Chris Helms of Ste. Genevieve, Mo., was awarded third place.
In the modified division, Chad Schmitz of Red Bud in his black-and-blue #73c car traded hits with the light blue #331 car driven by Thomas Laramore of Marissa for what seemed like forever before Schmitz ended up as the victor.
The semi stock division put an exclamation point on the night, as a big hit delivered by Tony Ahrens' black #46 car resulted in a full rollover of the black #80 car of Jake and Emily Riebeling. The Riebelings checked out OK, and the race resumed. The #74 car of Waterloo's Chase Lents caught fire at one point, resulting in a collective gasp from the capacity crowd.
When all the smoke had cleared and engine hums had subsided, Ahrens took the top trophy with derby veteran Alex Voelker of Waterloo in second and Jason Goeddel of Waterloo in third place.