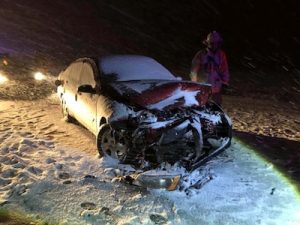 Two cars collided head-on in snowy conditions Wednesday night in the 3400 block of Floraville Road, resulting in non-life-threatening injuries to both drivers.
Police said a 2006 Hyundai Sonata driven by Thomas G. Beaston, 65, of New Athens, and a 2004 Ford Focus driven by Keith W. Murray, 38, of Ruma, were both traveling on Floraville Road when the crash occurred.
"The weather conditions at the time of the accident were heavy snow in near blinding conditions," Capt. Bruce Fleshren of the St. Clair County Sheriff's Department said.
Millstadt EMS transported both drivers to Memorial Hospital in Belleville for treatment of injuries that were not thought to be life-threatening.
"Due to the heavy snow conditions, the exact cause of the crash was not able to be determined at the time," Fleshren said.
Both drivers told police they did not lose control of their vehicles prior to the crash and did not see the other vehicle prior to impact.