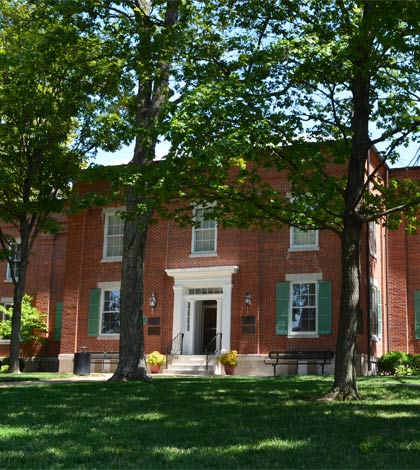 In its last official action of the current fiscal year, the Monroe County Board of Commissioners approved the 2019 budget Friday.
The $17.6 million budget represents an increase of about 9 percent over fiscal year 2018. But accountant Jim Schmersahl stressed most of this increase is due to late property assessments, which have disrupted cash flow into county coffers. The actual increase is slightly more than 2 percent, correlating with inflation.
Among the new expenses are an additional $65,000 for a second assistant state's attorney and $20,000 for a part-time sheriff's department investigator.
"That's to cover additional trial activity potentially as well as ongoing increased drug enforcement efforts," Schmersahl said.
"The sheriff is very proactive with drug enforcement in this community, which he should be. We all have children growing up here. And the state's attorney (cost) is a reflection of that proactiveness," Commissioner Vicki Koerber added.
Another aspect of the increased drug enforcement can be seen in the county's Federal Asset Forfeiture Fund, which received about $131,600 in 2018 and is expected to take in about $175,000 in 2019. The county is eligible for these monies due to a partnership with the Drug Enforcement Agency.
"You're starting to receive dollars of a significant nature (from the FAFF) and you're directing those dollars toward that problem," Schmersahl said.
The asset forfeiture funds will be used largely by the sheriff's department to upgrade the radio system, to the tune of about  $90,000, and add an assistant director of building maintenance. 
But the story of Monroe County's 2019 budget is more about what's not in it than what is.
Costs are being gradually phased out in nearly all departments and positions deemed unnecessary are eliminated through attrition, keeping the budget lean.
"Overall it is a testament to the financial strength of the county that you could relatively easily weather the delay in the property tax collection," Schmersahl said. "This is why it's important for governmental entities to have substantial capitalization — because things happen and when things happen governmental services can't stop. The responsibility is to ensure the infrastructure is sufficient to overcome problems and still provide services, and you are set up to do so."
Insurance questions
Prior to Friday's budget discussion, Kevin Hutchinson addressed the board, not as Columbia's mayor but as a taxpayer and insurance broker who presented a quote for the county to consider when renewing its risk management, liability and property insurance coverage.
"As you know, I was the broker who presented the quote for Illinois Counties Risk Management Trust program that was competing with your current program, Counties of Illinois Risk Management Agency program," he said.
The county felt it was time to see what other programs could offer before resigning with CIRMA, according to Commissioner Bob Elmore, so they opened the process up to bids. 
"That's part of our obligation to the taxpayers — to find out what we could do," Elmore said.
Hutchinson presented a policy, which the board would ultimately not choose, that he believed would have amounted to substantial savings for the county.
"We basically came to the conclusion that both programs are very similar from a coverage standpoint and from a risk management service standpoint," Hutchinson said. "The difference just kind of lies in the premiums."
Elmore disagreed.
"CIRMA was founded by counties that left ICRMT… because they thought the financial situation was better with CIRMA," Elmore said. "That's what I  based my vote on — the financial certainty of CIRMA against ICRMT."
Koerber was the lone vote in favor of ICRMT; Elmore and Delbert Wittenauer opposed it.
"CIRMA said our premiums could come down because there were some claims coming off the books," Elmore said.
"I agree with that statement," Hutchinson replied. "They should have come down a long time ago."
According to Hutchinson's analysis, which he presented to the board, ICRMT has total assets of more than $140 million compared to CIRMA's $8 million. The county's policy with CIRMA is assessable, which means CIRMA can go back after a policy has been paid and require policyholders to pay additional funds. ICRMT is not assessable.
"When you look at the $2 million surplus CIRMA has, $1.3 million of that is Monroe County's money," Hutchinson said. "I would have to disagree on the financial stability between the two companies." 
The policy the county agreed to with CIRMA costs about $70,000 more than the proposal for ICRMT.
"Over all these years Monroe County has been supporting CIRMA," Hutchinson said. "And I think it's a terrible thing that you've done that on the taxpayers' backs of Monroe County.
"Your program does not start until tomorrow. You still have a chance to do something about this and I pray that you take action today," Hutchinson continued.
"Well, I'll be gone in two years. Maybe then you'll get somebody who feels better about it," Elmore said, concluding the conversation.
Monday's meeting
The Monroe County Board launched its 2019 fiscal year on Monday, which marked the first official participation by newly elected commissioner Ron Schultheis and new county clerk and recorder Jonathan McLean.
In its first official action, the board re-elected Elmore as chairman and Koerber as vice chairman. 
Monroe County EMS Director Carla Heise informed the board Auditsolv Information Security of Chesterfield, Mo., will audit the Health Insurance Portability and Accountability Act policy for $200, which will be paid by the Monroe County Health Department.
Heise also recommended commissioners keep rates for 2019 unchanged.
Edie Koch, executive director of the Monroe County Economic Development Corporation, brought a resolution and interagency agreement to apply to establish an enterprise zone in Monroe and Randolph counties aimed at providing economic incentives to new and existing businesses expanding in the zone. Both counties are committing to this plan, as well as the cities of Columbia, Waterloo, Red Bud, Chester, Sparta, Valmeyer and Evansville. The requested resolution and agreement were unanimously approved.
Dan Rahe, who previously served as chairman of the three-county University of Illinois Extension Board, expressed his concerns over the finances of the group. Rahe first addressed the board in May.
He returned Monday, saying he remains concerned over disparities in funding among the three counties. Rahe said Monroe County pays more than its fair share and he is not satisfied with explanations offered by the Extension. 
Elmore said the board will turn to State Senator Paul Schimpf to seek help getting a clearer explanation from the Extension. 
Monroe County Engineer Aaron Metzger received authorization to use $900,000 in Motor Fuel Tax money for county highway maintenance.  
Metzger also provided an update of improvement projects planned for county highways in 2019-23: Country Club Lane sidewalk, Country Club Lane overlay, Levee Road bridge  in Road District 5, Hawthorne Estates overlay — Phase II, HH/N. Market Street sidewalk and JJ Road overlay. The projects will be paid for with local, MFT and road district funds.
In other action, the board approved the reappointments of:
Mike Fausz as Monroe County 9-1-1 Coordinator, Mapping and Platting Director and Zoning Inspection Officer; Carla Heise as Monroe County EMS director; Dwight Boehm as Animal Control administrator; Kim Keckritz as Oak Hill Care Center administrator; Sheila Wetzler as supervisor of general assistance; Annmarie Marcuson as human resource administrator; Jim Lansing to the 9-1-1 Emergency Telephone System board; and Mark Altadonna, Daniel Schumer and Marge Francois to the Monroe County Assessment Review Board.
The county board will meet next in regular session at 8 a.m. Monday, Dec. 17.