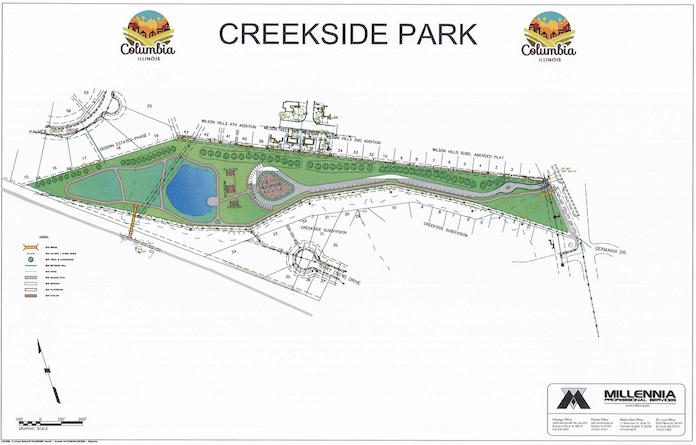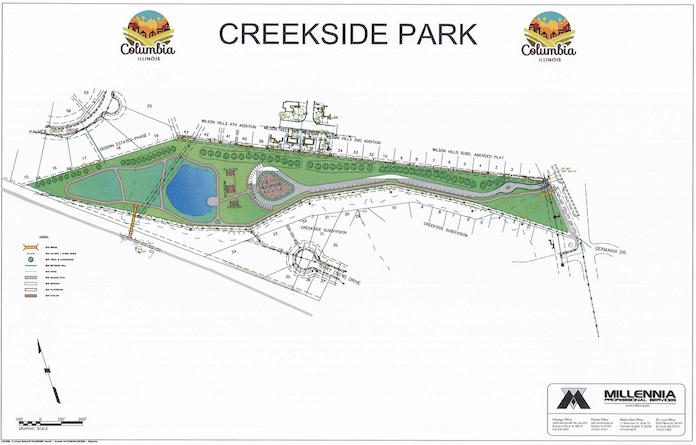 A park project in Columbia delayed due to the COVID-19 pandemic is back on track.
The Illinois Department of Natural Resources announced last Wednesday that Columbia was awarded a $600,000 Open Space Land Acquisition and Development grant which will be used to fund the Creekside Park project.
Columbia originally received a $400,000 grant in early 2019 to develop a park, a lake, pedestrian and biking trails and other amenities on a 17-acre tract near Rueck Road between the Creekside and Wilson Hills subdivisions.
When COVID-related supply chain and labor issues prevented the project from being completed in the required timeframe, Columbia City Engineer Chris Smith advised returning the original grant funds and re-applying for the grant in July 2021.
In the interim, Columbia City Council approved the purchase of property at 482 Wilson Drive to "provide an alternative entrance for the planned Creekside Park" in October 2021.
The property was purchased for $165,000, but eliminating the need for a park entrance to be constructed at Rueck Road reduced the project cost by $301,000, according to a staff report.
While new grant funding for the park has been secured, Smith told the Republic-Times he also anticipates communication soon about a Transportation Alternative Program grant which would also help fund aspects of Creekside Park.
In other Columbia business, aldermen approved language establishing regulations for solar energy systems to be installed by Columbia residents and businesses.
The ordinance established zoning regulations for all solar energy systems. Prior to adoption, Columbia did not have language to specifically regulate such installations.
After discussion during the Feb. 21 council meeting, the matter was tabled to allow amendments to the proposed code addition.
Changes included amending classifications from "commercial" and "non-commercial" systems to "large-scale" and "small-scale," respectively.
Language was also added to allow ground-mounted units via special use permit for both small- and large-scale installations.
During discussion, Ward I Alderman Doug Garmer had expressed a desire to have small-scale, ground-mounted systems allowed only if a building-mounted system was proven not to be feasible.
Columbia Director of Community Development Scott Dunakey explained the ordinance establishing solar power regulations could be adopted with additional provisions, but the language was approved "as is" by a 5-2 vote.
Garmer and Ward IV Alderman Mary Ellen Niemietz voted no. Ward III Alderman Jeff Huch was not present at the meeting.
The council then approved two requests for substitution of exterior building materials.
The first request was for "The Barn," a tavern and video gaming establishment planned at the former Gillan's Graphics site, 318 N. Main Street. The request was passed unanimously.
The next request was for a new multi-building business development at Southport Drive which will feature an Enterprise Rent-A-Car location. The request was passed on a 6-1 vote.
Garmer voted no, citing a proposed development in the area with the same zoning classification which the council recently approved with a condition that no architectural variances would be allowed.
The materials requests brought up a discussion about a planned zoning code overhaul.
Niemietz recommended percentages for building materials be further codified to keep the "characteristic" of Columbia buildings uniform.
She added masonry and other established building requirements provide not only an aesthetic value, but contribute to the longevity of structures in the city.
Columbia City Administrator Doug Brimm suggested a list of approved substitute materials be added to the new zoning code with information gathered from requests previously approved by the city.
Columbia will continue its series of town hall meetings about the upcoming home rule referendum this Wednesday, March 8, beginning at 6:30 p.m. at Columbia Public Library, 106 N. Metter Ave.
For more information, visit columbiaillinois.com/homerule or call 618-281-7144.