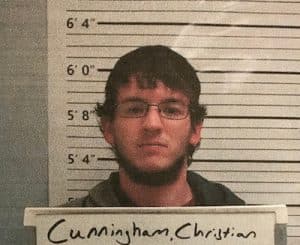 A local man was arrested on two felony counts of residential burglary following recent incidents at a home in Columbia.
Christian A. Cunningham, 23, of Columbia is alleged to have unlawfully entered a home in the 200 block of Divers Street during the evening of Jan. 27 and again late Friday morning.
While away from home, the homeowner apparently observed Cunningham inside his residence via security camera shortly before noon and called police, according to emergency radio dispatch. It is believed the homeowner knew the suspect.
Columbia police took Cunningham into custody about 3:30 p.m. Friday in the 600 block of East Cherry Street. He remains in the Monroe County Jail in Waterloo with bond set at $40,000.
Cunningham was placed on probation in November 2016 following his felony conviction in Monroe County for possession of a controlled substance (heroin).