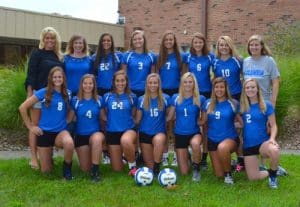 The Columbia High School volleyball team coached by Kelly Landgraf is this week's Republic-Times Team of the Week.
Coming off a 33-5 record last season, the Eagles opened their 2016 campaign with a win at home Monday night over Alton, 25-13 and 25-18. Alyssa Yochum led the way with seven kills and three blocks.
Colene Hamilton and Jordan Hausmann collected five kills each.
Columbia volleyball moved to 2-0 on the season with a 23-25, 25-23, 25-6 win Thursday night at Althoff. Hamilton led the way with 19 kills.
To view and purchase photos of all the fall sports teams, visit the Republic-Times media store by clicking here.