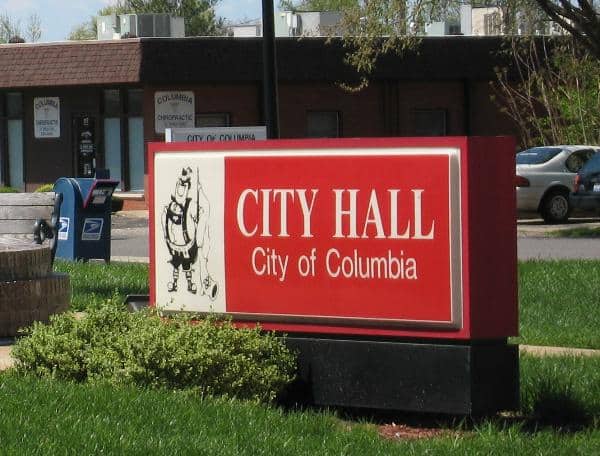 Ron Colyer
Wes Hoeffken
Former Columbia City Clerk Wes Hoeffken had some words of criticism to share with the Columbia City Council on Monday night regarding the workings of current city clerk Ron Colyer's office.
Always cordial, with never a voice raised or word spoken  out of turn, Hoeffken expressed clear concern during his address to alderman that some of the Illinois state statutes governing the release of city council closed and regular session meeting minutes are not being fulfilled.
Hoeffken served four terms, or 16 years, as city clerk prior to Ron Colyer being elected. Colyer defeated Shirley Bergmann in April to win a second term.
"When was the last time your city clerk presented minutes of closed sessions for your review?" Hoeffken asked the council. "My guess is never in the last four years."
He also has concerns about the minutes of regular meetings, which are to be posted within 10 days of approval by the city council.
"I don't think they're being posted in a timely manner." Hoeffken said.
The state is specific in how often minutes originating in closed or open session are supposed to be reviewed and released to the public, if appropriate.
"And as long as this neglect of these duties continues, the city clerk and his staff, I believe, (are) exposing the city to potential litigation," Hoeffken said.
An attempt to reach Colyer for comment on this matter was not returned as of Tuesday evening.
In other city council news from Monday night:
• Permits for new home starts in Columbia are averaging about one a week, putting the city ahead of last year's pace.
• Property on the American Bottoms called James Piggot's Land Claim / Schlemmer Farmstead at 11604 Bluff Road has been designated as a City of Columbia, Illinois Historic Site Landmark. This land is part of the original land claim of James Piggot, dating back to 1783.
Aldermen also approved a zoning change that will make the entire property R-3. Currently, part of the property is S-1 and part is R-3.
The next regular meeting of the Columbia City Council is Monday, July 1, at 7 p.m.