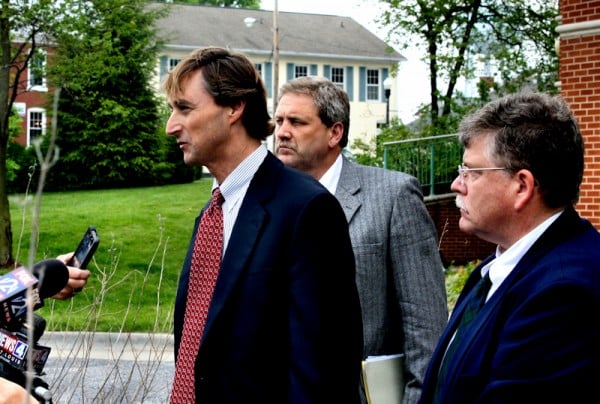 In an expected move by the defense, attorneys for convicted triple-murderer Christopher Coleman filed a motion Friday morning at the Monroe County Courthouse requesting the court set aside his May 5 conviction and start a new trial.
A jury chosen from Perry County due to massive media coverage of the case found Coleman guilty of the strangulation deaths of his wife, Sheri, and sons, Garett and Gavin, exactly two years to the day the murders were committed in the family's Columbia home.
He is serving three concurrent life sentences at the Pontiac Correctional Center, located upstate.
Friday's motion states that the "court committed error which requires a new trial" for the following reasons, among others:
*Allowance of a forensic linguistic analyst to testify that the defendant's known writings are similar to paint messages left at the crime scene and threats sent to the defendant.
*Allowing "hearsay" statements allegedly made by Sheri Coleman via text, email and phone conversations with acquaintances about the defendant wanting a divorce. "Such statements have never been allowed by the Illinois courts to sustain a conviction," the filing states.
*Denying a mistrial after Sheri's friend Meegan Turnbeaugh said on the stand that Sheri once told her "Chris beat me," which was quickly stricken from the record by the judge but still heard by jurors.
*Denying a motion for mistrial after the jury sent the court a note indicating they were "hung" early in their 15-hour deliberation.
*Allowing "hearsay" testimony of computer and text messages without proper foundation.
*Allowing the admission of a sales receipt alleging the defendant purchased spray paint similar to that used at the crime scene with no foundation to establish its authenticity.
The filing also states "reversible error" was committed when jurors considered what the defense calls "extra-judicial" evidence.
This comes on the heels of two jurors who told the media following the trial that the jury voted for conviction after examining with a magnifying glass the time stamps on photos exchanged between Chris Coleman and his mistress, Tara Lintz, which indicated they were lying about the beginning of their affair.
"The juror also indicated that this was the issue which ultimately swayed them to conviction after being deadlocked 7-5 for conviction after 15 hours of deliberation and more than two days after sending a note to the judge that they were deadlocked," the filing states.
The prosecutor in this case, Monroe County State's Attorney Kris Reitz, said the filing is set for a hearing before presiding Judge Milton Wharton, with no date set as of Tuesday.