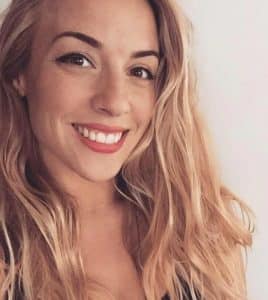 Lauren Colvin can't say for certain what led to her life-altering decision.
But one day in college, as the Columbia High School graduate strolled through the parking lot of a Best Buy, she realized she wanted to work in broadcasting.
"I thought I wanted to be in print journalism because I love writing," Colvin reflected.
Colvin, 32, went on to study radio broadcasting at Illinois State University. At ISU, she served as program director for the student-organized WZND radio station. The station featured both rock and hip-hop at the time she participated.
After graduating from ISU in 2007, she started at KSHE 95 FM in St. Louis in 2008 and became on-air personality "Lern" in 2012. Lern co-hosts a morning show with John Ulett, who has been on the air with KSHE for more than 40 years, from 6 a.m. to 1 p.m. Monday through Friday.
"Half of us look at him in awe that he's the godfather of KSHE," Colvin said of Ulett.
Recently, Carl Middleman, KSHE Morning Rock Show executive producer, joined Colvin and Ulett in their morning broadcast. The show doesn't include a lot of riffing or phone calls from listeners.
"Mainly, it's just a feel good show about realness," she said.
Colvin hosts her own midday show in which she continues providing rock music to listeners during the afternoon hours.
"She's very good on the air. Quick witted and has interesting takes on subject matter. Excellent speaking voice," Ulett said.
From the moment Colvin joined the radio station, she fell in love with its history and what the station represents to so many in St. Louis. She grew even more excited when Ulett showed her a picture of him pointing to KSHE on a wall at the Rock and Roll Hall of Fame in Cleveland.
"I was smitten! I had a goal in my life with my career at KSHE – take a picture with that wall one day," she said in a blog post on kshe95.com.
In October, she and her husband, Tim, would make a trip to the Cleveland museum only to find the display Ulett saw during his visit no longer existed.
"It's beyond me that they don't have it recognized," she said. "It's such a St. Louis thing. People love KSHE."
Not wanting to go down without a fight, Colvin brought back the idea to circulate a petition asking for KSHE and Ulett to receive recognition in the Rock and Roll Hall of Fame.
That petition has reached nearly 6,200 signatures. To sign the petition, go to ipetitions.com/petition/ksherockhall.
"I'm hoping to perk up the ears of the big wigs," she said.
When asked about Colvin's initiative to establish KSHE into the hall of fame, Ulett said Colvin is "a hard worker who takes initiative."
"Lauren loves the station and it's history," he said. "That's one of the reasons she's risen to this level of responsibility. Her quest to get KSHE back in the Hall of Fame is an example."
In 2014, Colvin was named the Riverfront Times' "FM Radio Personality of the Year" for her ability to incite a younger audience's interest in classic rock. RFT also cited that she knows how to connect with her fans.
"I couldn't be more proud of her," said Colvin's mother, Jill Bauer. "She's pretty much grown up with music. She's loved music all her life."
For more information on Lern and the morning and midday shows, go to facebook.com/lernvsradio/, follow Lern on Twitter at @lernvsradio or visit kshe95.com. Leave Lern a request at 314-969-1111 or email lern@kshe95.com.
"I think just being a real person — on the air and on the phone, I'm the same," Colvin said of what makes her successful with KSHE. "I love bringing people together. I like to build people up."