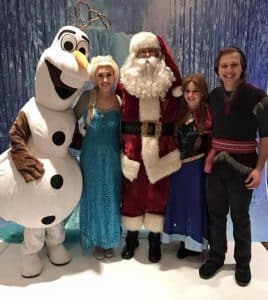 Elsa, Cinderella, Captain America — these are a few children's icons who will make an appearance during an upcoming event through the Monroe County Creating Entrepreneurial Opportunities program.
This Feb. 11 event, titled "Capes & Tiaras," will be a convention where local children can enjoy games, crafts and visits with their favorite superheroes or princesses.
Among the CEO students, Valmeyer High School student Leah Hill, 16, told the Republic-Times she looks forward to the many vendors who will take part in the event.
"I think we have about 20 vendors now and we hope to have 26 soon," Leah said.
Vendors will include such businesses as Back to the 80s Retro Arcade, Power Haus Sports, Wacky Warriors Paintball East, Sylvan Learning, Carrot Patch Child Care Center and others.
Royal Party Princesses in Columbia will have some of its most popular characters in attendance at the event, including Elsa from the movie "Frozen." At just 16 years old, Ashley Meyer created a business where she could not only love what she does but also bring the same joy to children she experienced growing up.
"I remember when I was a little girl, I had Barbie come to my birthday party and I loved it," she said. "That was my favorite."
Meyer said she now has 10 employees working for her and catered to about 80 events in her first year of business. These events include birthdays, charities, visiting sick children at hospitals, and now "Capes & Tiaras."
"I love what these (CEO kids) are doing, and I think it's going to turn out great," she said.
For more information on Royal Party Princesses, go to royalpartyprincesses.com or facebook.com/royalpartyprincesses or call 618-476-5522.
Leah has helped bring in vendors, create decorations and decide on crafts for the event.
"Since October, all days have been planning, so it's been a lot," she said.
Jamie Matthews, Monroe County CEO facilitator, said she has watched students put a lot of effort into the project.
"It's really neat to watch them through the process," she said. "It's a pretty big event for anyone to plan."
Matthews said the experience has taught students the need to follow up rather than calling a vendor once and throwing in the towel. In addition, she said the students are building their teamwork and organizational skills.
"I think they're doing a really good job," she said. "And they're proud of it, which is good that they're proud of it because they've put a lot of hard work into it. It's going to be a really great event."
"Capes & Tiaras" will take place from 9 a.m. to noon Feb. 11 at Turner Hall in Columbia. The cost is $5 per person for ages 5 and older and free for ages 4 and under. For more information, contact Hallie Dawson at HDhallie.dawson@gmail.com or monroecountyceo@gmail.com or go to facebook.com/MonroeCEO.
A "swap and sell" will allow attendees to bring in items to sell where three-fourths of the profit generated goes to the person selling the item. The remaining 25 percent would be divided in half between the CEO program and the Maidez Center.
The Maidez Center is a non-profit organization that serves youth and families' social, emotional and academic needs. One hundred percent of the money raised through the organization goes directly to these needs, regional superintendent Kelton Davis, who created the organization, said.
"I'm excited for (the event) to actually happen because I hope it's going to be fun for everybody," Leah said.