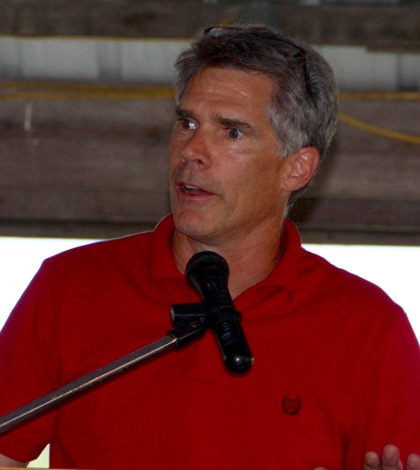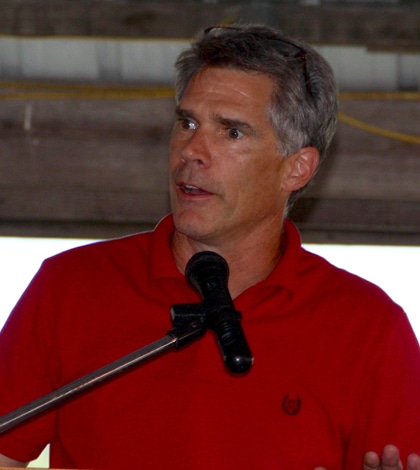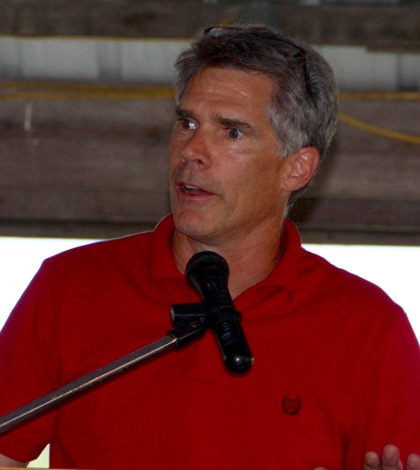 The Monroe County Farm Bureau and Country Financial held an ice cream social and "meet the candidates" event last Wednesday at the fairgrounds.
Hundreds of people attended the event to hear politicians give short speeches.
U.S. Representative
U.S. Rep. Mike Bost (R-Murphysboro) spoke first, highlighting recent work he has completed that he said will benefit the people in his district.
He singled out the Farm Bill, which is currently in the Senate, as an important piece of upcoming legislation. Bost estimated it will pass within the next few weeks.
Bost said some of the best parts of the bill are the crop insurance and expansion of programs that encourage young farmers.
He also said the Senate removed a part of the bill he supported regarding work requirements for food stamp recipients.
"It basically said that if you were 18-59 years of age, you were not pregnant, you did not have children under 6 and you actually were physically able and mentally able, you should work 20 hours a week," Bost said. "It made sense to me. That's why I supported that."
After mentioning his work with President Donald Trump on trade, Bost said he appreciates the support and feedback he receives from Monroe County.
"A tremendous amount of people from this county are in constant contact with me on our ag issues and I thank them very much for that," he said. "I thank you for the opportunity to serve. I hope I can continue to serve you."
Bost's opponent for the 12th District seat, Democrat Brendan Kelly, did not attend the event. The St. Clair County state's attorney recently broke his leg while riding a dirt bike.
State Representative
State Representative Jerry Costello II (D-Smithton) also could not attend, though in his case it was because he had plane problems before flying back from Washington, D.C.
Costello's wife, Waterloo High School principal Lori Costello, spoke on his behalf, touching on her husband's support of agriculture programs such as 4-H and FFA.
She also highlighted her husband's conservative views, saying he has been ranked the most conservative Democrat in Illinois and more conservative than some Republicans.
This may help him overcome partisan differences when negotiating, she said.
"There are many people here tonight who know how many things wouldn't have gotten done except for my husband and his unique ability to walk across the aisle for the common good of Southern Illinois," Lori said. "Ask almost any downstate Republican who they would go to on the Democratic side of the aisle and it's Jerry."
Regardless of party affiliation, she said her husband is the right man for the job in Springfield.
"It's not about being a Republican or a Democrat. It's about doing what's right for the people of southern Illinois," Lori said.
Costello's 116th District opponent, Republican David Friess of Red Bud, told attendees he is running because he loves the area and for his children, ages 13 and 11.
Friess, who grew up in Chester, said he hopes his son will stay in the area when he gets older, but that might not happen because of the current state of Illinois.
"There's a couple factors that are driving that," Friess said of his son's decision on where to live. "Unfortunately, its taxes – property taxes and real estate taxes. Taxes are killing us.
"Unfortunately, we have career politicians in Springfield who have run our state into the ground," Friess continued. "It's my goal, and I hope I can do this with the help of other Republicans, to stop this madness."
County Clerk
A final contested race voters will face is for Monroe County Clerk due to longtime clerk Dennis Knobloch's upcoming retirement.
Knobloch, a Republican, has endorsed Republican Jonathan McLean as his replacement.
At the event, McLean spoke about his qualifications, citing his experience as the owner of an independent insurance agency and other businesses.
He said that would help him with this job because he is familiar with its responsibilities, such as managing an employee payroll or the county's bills.
"This election, to me, is about choosing the candidate who is qualified and able to get the job done on day one," he said. "I have a proven record of running an office, managing employees, working with budgets and, most importantly, taking care of my clients. Providing great customer service as Monroe County Clerk is a priority to me."
McLean's opponent is Democrat Jason Jones.
"I want to ask for your vote for county clerk because I feel I'm the best to represent the past, present and future," he said.
Jones was raised in Monroe County and graduated from Waterloo High School in 1997. Jones moved away after graduation, but he said he and his wife moved back to raise their two sets of twins in the county.
Jones, who is a substitute teacher at Valmeyer High School, also praised Knobloch for his public service career.
"I would be glad to take over his legacy as the Democratic Dennis Knobloch, if he would allow me to say that," Jones said.
Jones also spoke about the importance of agriculture in Monroe County, saying he wants to help the county innovate in that field.
Additionally, candidates in uncontested races at the county level and several judges vying for seats in the Fifth and 20th judicial districts spoke at the event.
Election Day is Nov. 6.