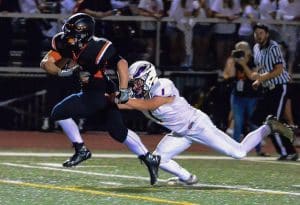 Needing a victory to turn around their 1-3 season, the Waterloo Bulldogs fed off the energy of the home crowd during its homecoming game and a "white out" by the student section Friday night en route to a 42-6 powdering of Mississippi Valley Conference foe Civic Memorial.
Dalton Viglasky scored three first half touchdowns as the Bulldogs took a 35-0 lead into the halftime locker room and never looked back.
Viglasky's first TD run came from 80 yards out early in the first quarter. He scored again on a short run to put Waterloo up 14-0 in the blink of an eye.
Fellow Bulldogs running back Jake O'Daniell added a TD score to increase Waterloo's lead to 21-0.
The Waterloo defense even got into the first half scoring bonanza, with Bryce Kirk taking an interception to the house to put the 'Dogs up 28-0. Viglasky's third TD of the half essentially put the game out of reach before halftime.
Friday's victory improves Waterloo's record to 2-3 on the season. The Bulldogs will play at Jerseyville next Friday. The Panthers are also 2-3 on the season following Friday's impressive 51-39 win at home over Mascoutah.