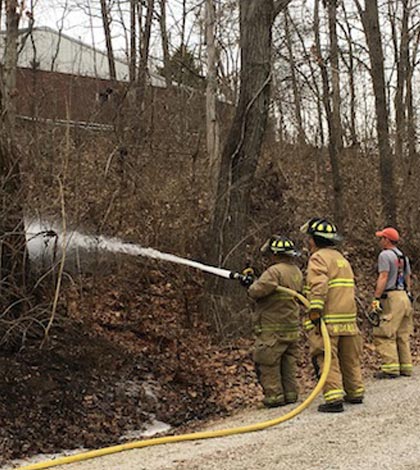 The Columbia, Millstadt and Dupo fire departments responded at about 1:30 p.m. Monday to a brush fire that apparently spread to a shed and a wooded area in the 2000 block of Arras Drive off Triple Lakes Road in rural St. Clair County.
Firefighters had the blaze under control shortly after 1:50 p.m. and were putting out hot spots.
Columbia Assistant Fire Chief Jim Broshears said Robert Boland was burning off the side of his driveway at 2043 Arras Drive when the fire spread out of control up a hill, burning the exterior of a small shed and the tire of a car along with a tree on the property of Chris Hofer at 2039 Arras Drive.
"Our brush truck got there just in time," Broshears said.
Firemen were able to extinguish the blaze before it spread to large shed that houses several antique cars, Broshears said.