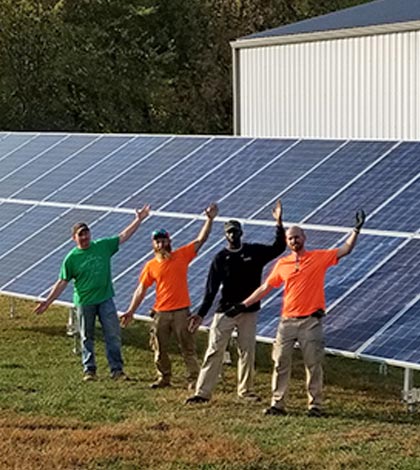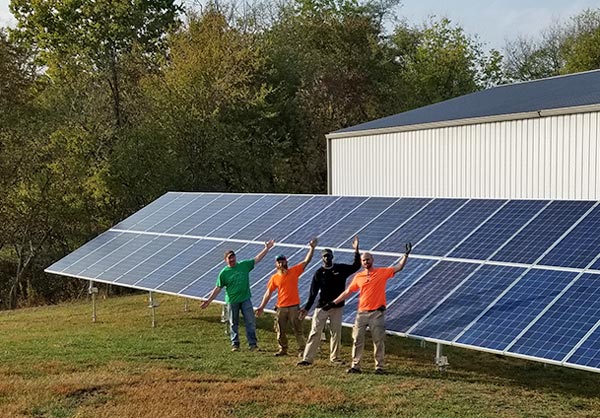 ---
Two brothers who own farmland in Monroe County are taking a unique approach to powering their business. 
StraightUp Solar of St. Louis installed new solar panels at the farms of Brad and Brian Edler at the beginning of the month. According to Brad, the move seems less common in the agriculture industry.
"This was kind of interesting to the guys at the solar place. They haven't dealt with a lot of farms," he said.
However, Brad knew he would be making the right move after crunching the numbers.
"I was curious because you see all of the wind activity, but that didn't pencil out the way I wanted it to," he said. "But in the last eight months or so, I had heard about the numbers on the federal tax credit on solar. 
"And I thought, 'Let's see how that comes out.' So I ran the numbers and it came out pretty good."
Brad and Brian own about 910 acres between their Valmeyer and Fults properties. While Brad works full-time in St. Louis, Brian takes care of the farming and harvests corn, soybeans and wheat.
"My brother is very frugal and he had it penciled out that it would work better, and I'm a businessman so if it works for him, it works for me," Brian said.
The solar installations at both locations are photovoltaic in that they use solar panels to convert sunlight directly into electricity. The solar panels, Brad said, will power the main electrical services in the shops at both farms.
He said the total cost of the installation at the Fults farm came out to about $30,000 while the Valmeyer installation is in the range of $20,000 to $25,000. 
However, Brad indicated that the one in Fults is a more "high end" installation. He said he expects to see the system paid off in seven or eight years.
Not only do savings come from a federal solar tax credit that allows him to deduct 30 percent of the cost of installing a solar energy system, he also will see savings from Illinois' solar renewable energy credits. 
SRECs function as a way to credit back those with solar installations after they generate a certain amount of renewable energy.
"SRECs in five years pays 40 percent of the system," Brad explained. 
For the Valmeyer farm, Brian will get to deduct 85 percent of expenses for the installation on his taxes as a business owner. Go to straightupsolar.com or call 844-977-6527 to order a home installation or for more information.
Many homeowners in Monroe County have chosen to go solar, including Larry and Danilee Sanders and Wesley Braswell, both of Columbia, whose homes were featured during the recent Illinois Solar Tour. 
A StraightUp Solar map of Monroe County shows a total of nine home installations.
Last year, Gibault Catholic High School moved to solar energy to power its FFA greenhouse. David Barmann of Valmeyer featured his new home installation during last year's solar tour.
"It's going to be interesting to see how it works out," Brad said. "It's amazing how many people out there haven't looked into this yet. The information is out there. It's just a matter of seeing it for themselves."