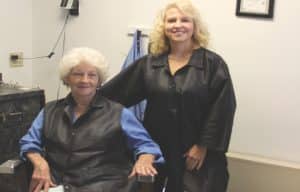 Betty's Barber Shop – home of the "Sweet Betty Fade" with barbers Betty Jackson and her daughter Monica Lanter – has been serving customers on Columbia's South Main Street for a quarter decade.
Betty began the shop in 1995 after receiving her barber license from Belleville Barber College and estimates she has since given thousands of haircuts.
She had previously worked for Mallinckrodt Medical in St. Louis before the company closed the plant where she worked.
As part of the layoff package from Mallinckrodt, employees were given free schooling and Betty felt the choice was obvious.
"I used to cut my husband's hair all the time and I guess I got pretty good at it," Betty laughed while recalling the reason for opening her shop.
She then worked at Ron's Barber Shop in Columbia while earning her license. That is where the "Sweet Betty Fade" came into existence.
"The boys used to come in when I started and they all wanted the 'bowl' cut," Betty recalled. "I asked them if they wanted to style it a little more, and I started to give them the fade."
Betty, who is from Freeburg, eventually decided to open her own shop in Columbia and continue this trademark cut.
It became such a hit that a Columbia High School student even wrote an essay about it.
The shop was also featured in a photo-essay book, "A Small Town Celebration" by Dave Norman, published during Columbia's 150th anniversary celebration.
Betty and Monica serve customers from all over, not just Columbia. People come from Waterloo, Millstadt and Cahokia, and they even have a regular from Plum Hill.
"The best part is the communication we get to have," Betty said. "We have the nicest people. They're like family now."
It is also a great place for families to go, Monica added.
"We have toys from 25 years ago and the kids run to the back room to find them when they get here" while waiting for their own haircut or a parent's haircut, she said.
"The kids also know we keep snacks," Monica said. "Now the ones who know don't want a sucker anymore. They want to know what kind of snacks we have back there."
Monica joined her mother at the barber shop when she earned her barber license with the last class of Belleville Barber College in 2000 before it closed.
The shop was handed down officially to Monica two years ago, but the name has stayed the same.
Betty only cuts hair on Tuesdays and Saturdays now and Monica is the full-time barber, but Betty says she will always "appreciate all the people who have come in all these years."
Betty's Barber Shop is located at 221 S. Main Street in Columbia and is open Tuesday through Saturday. Call 281-3939 for more information.