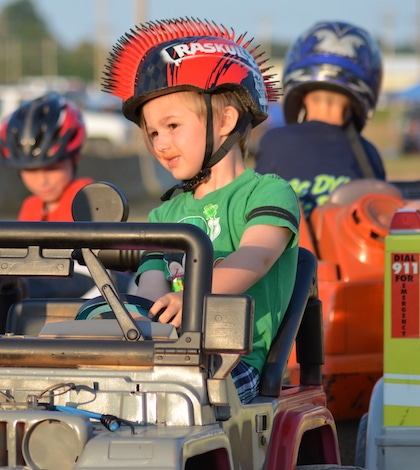 Although it got off to a bit of a rocky start with rain cancelling Monday night's tractor pull, the Monroe County Fair enjoyed yet another successful year.
"It was just another great fair," Monroe County Fair Association President Don Schrader told the Republic-Times. "It was contributed to by great weather, a great community and all the support from all the businesses. We are blessed in Monroe County to get the support we have."
While the rain may have dampened spirits last Monday night, it helped ensure high turnout throughout the week as temperatures fell from sweltering to mild.
It also did not have a significant impact on the fair's overall attendance.
"Attendance was just as good, with the exception of Monday night canceling our tractor pull," Schrader said. "We were one night short, but by the time the week ended up we were right there with any other year with attendance."
"We had a good turnout Monday night for the food stands," he added. "A lot of people just came to eat and socialize and walk the fairgrounds."
This year's food and beer sales overall also did not suffer from the canceled Monday event, with Schrader describing those totals as "super."
"Beer was almost identical to last year, and the prediction is the food exceeded any other year," he said. "The lunch crowd, which years ago didn't hardly exist, has grown unbelievably."
Other big draws to the fair – Wednesday's Figure 8 race Friday's auto demolition derby – were similarly successful with capacity crowds.
Schrader said attendance was just a few hundred dollars short of last year's record total in the low $50,000 range.
Saturday's International Tractor Pulling Association tractor pull helped make up for that, as its ticket sales were up compared to 2018.
Conversely, the 4-H and FFA market animal auction was slightly down this year – bringing in $131,000 compared to last year's $148,000.
Schrader said there were fewer animals this year, in part due to recent flooding.
"We lost some entries that way," he noted.
The fair wrapped up Sunday with FFA Fun Night. The Red Bud FFA won that event with 262 points, followed by Waterloo's 249, defending champion Columbia's 213, Valmeyer's 205 and Gibault's 159.
Another late fair week winner was the Colleen and Darren Johanning family, which won this year's Monroe County Farm Family Award.
The family, which also includes children Lydia, Ty and Nate, won the trophy sponsored by Chip Bieber for exhibiting the most entries during the week.
Throughout all of fair week, there was a slight increase in EMS presence compared to last year with people having medical issues such as individuals passing out.
By contrast, Waterloo police made no arrests and handled just a few minor incidents throughout the week.
"It was pretty calm, as far as that part goes," Schrader said.