All revved up for Firebird Fest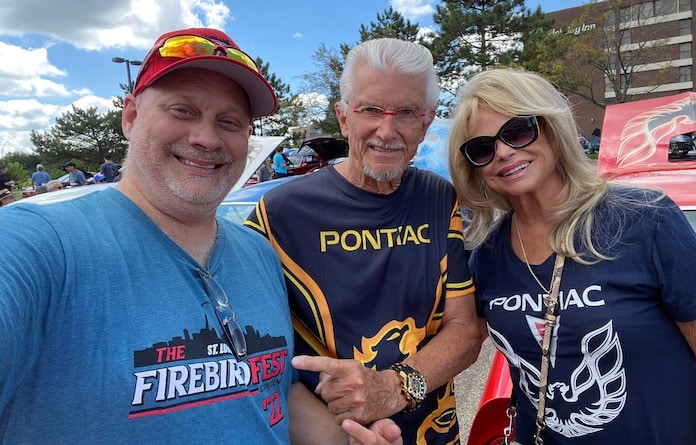 Fast becoming somewhat of a local tradition, Firebird Fest is returning to Waterloo for the third straight year.
Classic car enthusiasts from all around are invited to enjoy an event slated to be bigger than the year before.
The event is hosted by the I-55 Firebirds Club, a group united by their love of Pontiac Trans Ams. The club is based primarily in Troy but has members from all around the St. Louis area and beyond.
Aaron Chappell, a member of the I-55 Firebirds Club, spoke about the event's growth over the last three years as well as the club's hopes for this coming festival.
Chappell himself is from Centralia. He joined the I-55 Firebirds Club shortly after happening upon them during the first Firebird Fest.
"I've always been a car guy," Chappell said. "I've had several myself. I accidentally ran across these guys their very first year when they had their meeting at Gateway Classic Cars in O'Fallon. Looked up their Facebook page and ended up buying my own Firebird and joined the group."
That first Firebird Fest, Chappell said, started mainly as an excuse for a bunch of Pontiac fans to get together, though the attendance numbers were rather impressive even from the start.
"It was kinda just thrown together as a way to get as many cars together locally as they could," Chappell said. "It turned into over 120 cars that first year."
That number grew to over 230 cars last year.
Further, the event was also meant to help folks in the area get out of the house following the 2020 shutdowns and safety protocols caused by the COVID-19 pandemic.
As another local festival for Waterloo, it's also served to get people into the community before all the other summer events and traditions.
"It started as a post-COVID thing that first year," Chappell said. "Them all getting out of the house, getting their cars going again, get back out in public. Definitely it's been really helpful drawing people to Waterloo just to get everybody out and have a big group get-together party kinda thing."
Still another core aspect of Firebird Fest since its inception has been charity. The first event donated its proceeds to area first responders, and the second moved to support Kids Rock Cancer.
Those two years saw a total of roughly $15,000 go to charity, and Chappell said the group is hoping to hit that same figure just for this event as they donate to the Song Society of St. Louis, a music therapy organization for children and young adults.
Chappell also said Firebird Fest stands out among other car shows as the group hopes to cater to a much wider audience than those who simply want to look at a small collection of cars all day.
"It's not a 'sit down and stare at cars' type of event," Chappell said. "We're gonna be hard to find. We're gonna be traveling most of these days… Saturday night in Waterloo is gonna be the primo event."
As he described, the event will see the Firebirds cruise all around the area, with one of the stops being at the Gateway Classic Cars Museum.
The main event Saturday in Waterloo will feature a variety of entertainment beyond just the Trans Ams.
Live music from Nashville artist Mudbone as well as national touring act "Ozzy and the Complete Black Sabbath Experience" tribute band will take place later in the evening.
Firebird Fest will also feature East Bound and Down: The Ultimate Smokey & the Bandit Tribute, with actors impersonating characters from that classic film.
That group is joined by Caye Barnett, an actress who played the young daughter in the 1977 film.
Barnett said she participates in a number of car shows in Georgia, though this will be her second time going outside of the state for one.
She was very enthusiastic about the opportunity to meet fans of the film and classic cars.
"I'm absolutely looking forward to it," Barnett said. "I do love meeting the fans. The way that it's so big still, the movie, is amazing to me, and everybody that I've ever met, super nice."
Saturday's event will also feature John Schinella, creator of the special edition black and gold car used in "Smokey and the Bandit" and one of several key designers on a variety of classic Pontiac cars.
He became interested in the event after meeting with Rod Haffer, unofficial president of the I-55 Firebirds Club.
Schinella has similarly attended a number of car shows to meet with fans of his work. He spoke about how humbling it is to have so many individuals show such tremendous respect and appreciation for he and his colleagues' work.
"These people think we're heroes," Schinella said. "And when I give a presentation… I tell them they're heroes, because they have loved, nourished, restored and brought back to life some of the most beautiful cars – as it's being acclaimed – that we worked on, and they're the heroes."
Firebird Fest's main event takes place in downtown Waterloo this Saturday, with festivities starting at 3 p.m. and carrying on through the evening.
For more information on Firebird Fest, visit firebirdfest.com.