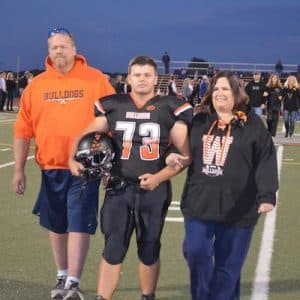 The mood was somber in the halls of Waterloo High School on Thursday following the loss of a senior football player who apparently ended his own life the night before.
Grief counselors were made available Thursday at WHS for students and staff.
David Woodall, 18, the son of Jeff and Dawn Woodall, was pronounced dead at St. Anthony's Medical Center in St. Louis County. The Waterloo Police Department and Monroe County EMS responded to the Woodall residence on West Fallen Lake Drive shortly after 6 p.m. Wednesday, after David was discovered in his room by a family member.
Waterloo Police Chief Jim Trantham said the first officers were on scene at 6:07 p.m. and found a parent performing CPR on their son. Officers took over CPR until Monroe County EMS arrived at 6:28 p.m. He was then rushed to the hospital.
David was a leader on defense for the Waterloo football team during his senior year. He had four quarterback sacks on the season.
Visitation is set for 2 p.m. Saturday at Quernheim Funeral Home in Waterloo, with a memorial service to follow at 5 p.m. For a full obituary, click here.
"The Waterloo Police Department made us aware that one of our high school students passed away last night," Waterloo school superintendent Brian Charron stated in a Thursday email to the Republic-Times. "We have social workers and guidance counselors available at our school for students and staff.  The counselors will continue to be available as needed during this difficult time.  Our hearts and prayers are with the student's family and friends."