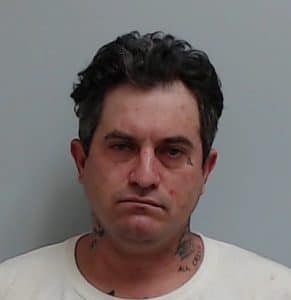 Waterloo police believe a 42-year-old man charged in May with aggravated criminal sex abuse may have preyed on underage victims by trading tattoos for sexual favors. 
On May 8, the Monroe County State's Attorney's Office issued an arrest warrant for Michael B. Stephens of Waterloo on the felony sex charge.  
Court information states that sometime this past November, Stephens committed an act of sexual penetration with a victim who was at least 13 years of age but under 17 years of age and the defendant was at least five years older than the victim.

On May 19, the Waterloo Police Department arrested Stephens at a residence in New Athens with the assistance of the New Athens Police Department. Stephens was transported to the Monroe County Jail following his arrest, where he is currently being held pending $2,500 cash bond.
Additional felony charges may be sought against Stephens.
Waterloo police urge anyone who has information on Stephens related to this case or may have fallen victim to Stephens to call 618-939-3377.