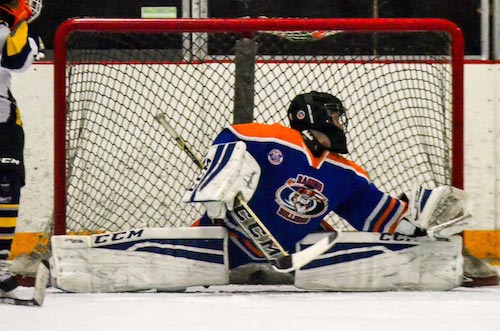 The Freeburg-Waterloo Raging Bulldogs were just one win away from claiming this year's Mississippi Valley Club Hockey Association Class 2A title after defeating O'Fallon on Thursday night.
But the 'Dogs lost in a shootout on Monday and dropped a 5-4 heartbreaker Tuesday night in East Alton, ending the season with thoughts of what might have been.
"It was a very tough, emotional loss for us that is still being digested," Raging Bulldogs head coach Nick Dreyer said. "Our kids battled extremely hard and did everything we asked of them and at the end of the day, O'Fallon got a few more breaks than we did."
In game two on Monday night, the Raging Bulldogs scored two quick goals before O'Fallon turned up the pressure to tie it and eventually win it in a thrilling shootout.
In game three on Tuesday night, O'Fallon went up 2-0 early and Freeburg-Waterloo battled back to tie it on goals from Dylan Gauch and Jacob Pitt.
The Raging Bulldogs took a 3-2 lead on a goal by Austin Patton in the second period, but O'Fallon scored two goals to reclaim the lead in this back-and-forth title game. Parker McDonald tied the game at 4-4 with his goal early in the third period, sending the Raging Bulldogs fan section into a frenzy.
But the Panthers scored the game-winning goal late in the third period to claim the title and send the Freeburg-Waterloo contingent home empty handed.
The loss ended a remarkable playoff run for the Raging Bulldogs, who defeated Collinsville in three games and top-seeded Edwardsville in three games before winning game one of the finals.
"We push our kids to play a very physical heavy game and that requires a lot of sacrifice on their part. The fact that they did this night in and night out is a testament to how tough of a group they actually were," Dreyer said.
The end of the season marked the final games for seniors Scott Nanney, Austin Patton, Adam Phelps, Dylan Gauch, Spencer Schuchman, Parker McDonald and Peyton Hamilton.
"We had a great senior captain in Scott Nanney and he was the guy that led us into battle every single night," Dreyer said. "(The seniors) were as good a group of kids that anyone could have asked for and we are going to miss them badly next season."
Read more on games one and two of the MVHCA finals in the Feb. 22 issue of the Republic-Times newspaper. For more photos from throughout the season, including game three on Tuesday night, click here.