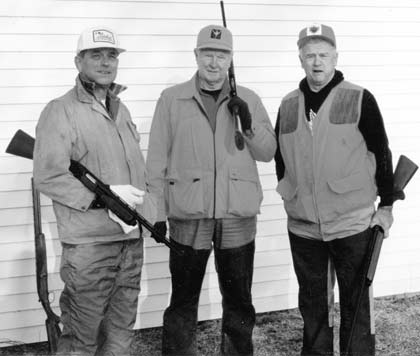 William H. Schmidt Jr., 83, of Waterloo, died Nov. 6 following a long battle with bone cancer.
He was a car salesman in town for more than 50 years; played in the Waterloo German Band, Bud Light Brigade and Waterloo Municipal Band; and was a 2012 WHS Athletic Hall of Fame inductee.
Growing up on a family farm, Schmidt was raised where Annbriar Golf Course is now located, where he helped out with the animals as a young boy.
His dad initially didn't want Bill to play sports and wanted him to focus on helping out with the family farm.
However, once Bill got going with sports, he could not be stopped.
His father changed his mind in 1945, after Bill scored 36 points in a Waterloo FFA basketball game against Valmeyer.
Schmidt played baseball, basketball and was a part of the cross-country team at Waterloo High School in the 1940s.
In 1948, Schmidt made WHS history as a cross-country runner and the school's first student-athlete to qualify for state in any sporting event.
He finished 35th out of 93 runners in the race held in Champaign after only a few practices.
Schmidt was also good friends with former St. Louis Cardinals manager Whitey Herzog, who he played baseball against in high school.
Pictured, Lenny Voelker presented Bill Schmidt with a plaque recognizing his 2012 induction into the Waterloo High School Athletic Hall of Fame. (Republic-Times photo)
Herzog credited Schmidt several times for his baseball success, and even wrote him a letter that read "Thanks for letting me get all of those hits in high school. You're the reason I got signed."
The two maintained their friendship as the years went by, taking several fishing and hunting trips.
Two of Schmidt's favorite places to go fishing were Beaver Lake in Wartburg and Coon Lake in Calhoun County.
Schmidt worked at the same Chevrolet-Buick auto dealership in Waterloo for more than 50 years and started in 1949.
He was also an avid musician and participated in local groups such as the Bud Light Brigade, Waterloo German Band, New Hanover Deutschmeisters and Waterloo Municipal Band playing the clarinet.
Brian Unger, Schmidt's grandson and a teacher at Waterloo, said his grandfather will be missed.
"Looking at the amount of people who came by to pay respects… It really showed the extent of the people he touched in his life," Unger said.
Unger said close to 600 people came by to pay respects to his grandfather.
"So many people told me 'your grandpa was a legend,'" he said. "He was so influential and everyone liked him."
When they were kids, Unger said they hardly ever introduced themselves by just their first and last name in the community. It was always followed by "Bill Schmidt's grandson/granddaughter."
"People didn't know me – they knew my grandpa," Unger said. "Everybody knew who you were when you said his name."
Services for Schmidt took place earlier this week, with the funeral on Monday at St. Paul United Church of Christ in Waterloo and burial at Ss. Peter and Paul Cemetery in Waterloo.