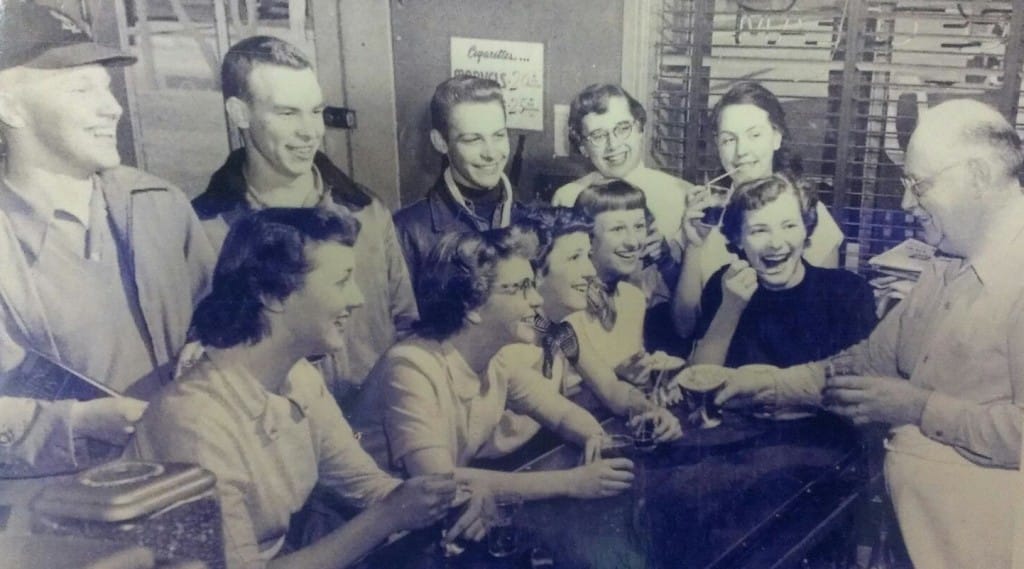 As we look back on our lives, we remember people, events and special places that made us feel cared for. Rex's Corner in Waterloo, which served customers for more than a half-century, was one of those places.
After Otis J. Rexroth purchased the O.A Robyn Confectionary, located at the corner of Third and Main, in June 1919, he changed the name to Rex's Confectionary.  To his family, it was mostly referred to as "The Store."
Former customers have a hard time putting a label on the business; it was indeed a rare place. Beginning as a business that primarily sold dessert items, Rex's expanded and served hamburgers, a variety of sandwiches, plate lunches, and his locally famous chili. When Prohibition ended in 1933, Rexroth applied for and was awarded liquor license #1, allowing him to serve all types of libations at his establishment.
"I'd call it an ice cream shop," remarked Bill Schmidt, a lifelong resident of Waterloo.  Schmidt recalls playing in the Waterloo German Band on the courthouse lawn across from Rex's. "The crowd would follow the band over to Rex's after the performances. It was wall-to-wall people, and I remember standing on top of the ice machine."
Jean Jost, a Waterloo native who spent much of her early years living across the street from Rex's, remembers the place primarily as a soda fountain but also as "the place to go."
"It was the only place in town where a man could go in and have a martini while his family had hamburgers, chili, milkshakes or a Cherry Coke."
H.R. Gentsch, President of Harrisonville Telephone Company, recalls that "one half of the counter was the soda fountain and the other half was the bar. And then there was the ice cream machine right there in the middle."
Rex made his own ice cream, obtaining his mix from the local creamery.
Gentsch spent much of his growing-up years on Main Street, once living above his family's business, Schulmeister's Bakery, a few doors down.
"The bakery would supply Rex with the bread and bake the ham for his special barbecue ham recipe," he said. "He gave the recipe to my mother, and I still make those sandwiches from time to time."
George Ziebold, who ran a home appliance store uptown for many years, has fond memories of Rex's place.
"In the 1940's, Rex had a little blue card you could get punched each time you ate a sundae or ice cream soda," he said. "After getting the card punched 10 times, you'd get a free one."
Jean Schutt recalls eating a special ice cream dish with marshmallow cream and chocolate that Rex dubbed the Bull- dog Sundae, a dish that honored the Waterloo school mascot.
Rex's place served many functions over the years in addition to its status as a local eatery. At one time, it was the Gulf Transport Bus Station. Before that, it served as the terminus of the St. Louis, Columbia and Waterloo interurban streetcar line with a streetcar leaving every 90 minutes for the city. Employees scrambled to keep up with passengers in between, serving them food and drinks.
Customers recall Rex's place during election nights, homecomings and school picnics. They especially remember it being a hot spot during basketball season.
Jean Buettner worked for Rex during the early 1950's.
"Rex and I would listen to the games on the radio and wait for the fan bus to pull up or for the game to end," Buettner remembers.
Rex's was not only the gathering place for sports fans, but also for game officials. Referees from all over the area would stop by on their way back home following an evening of officiating — often receiving good-natured jabs from the "dry-humored" Rex about a bad call they'd made.
Buettner credits longtime employee Meta Rodenberg with teaching her all the ins and outs of working at Rex's.
"She was a very nice, kind person and taught me everything I needed to know; how to make mixed drinks, draw a good glass of draft beer, make cherry cokes, sundaes and malts," she said.
Those who recall Rex's Corner will include fond recollections of Rodenberg. All have remarked what an upstanding person she was and how she helped look after the youngsters who came there. She was a confidante to many.
"My mother worked for Rex from 1937 until he retired. I think she would have continued working there as long as Rex chose to work. She was a devoted employee," said Meta's daughter, Verna Rodenberg Mehrtens.
Rex's place offered more than just food and fellowship. Mehrtens' brother, Norm Rodenberg, also an employee of Rex's for a time, recalls the jukebox having everyone's favorite tunes from Tommy Dorsey and Stan Kenton. Rex's was the place to get the latest comics books, movie magazines, and sheet music for the latest songs. Mehrtens remembers purchasing many pieces of sheet music in order to play the popular songs of the day.
Gentsch recalls that the back room at Rex's had round tables and those "old metal Coca Cola chairs." Ziebold adds that he heard of a lot of high-stakes card games going on back there, and Elaine Daley Ryan fondly remembers the back room as the place she honed her pinball machine skills.
In the days before carbonated tanks were used for dispensing soda, local soda fountains used seltzer water and cola syrup to mix up sodas, including the favored Cherry Coke.
Gentsch remembers his mother going down to Rex's for "a dose or two of Coke syrup to give to us when we had a stomach virus."
Perhaps one of the greatest memories of Rex's place, shared by all of the people interviewed for this article, is a place called Rex's Hill, which was the hill next to Rex's Corner that extended all the way to the end of Third Street.
On a chilly winter evening after a substantial snowfall, local law enforcement would block all the side streets along the street. Rex's Hill — in those days not marred by salt or touched by snowplows — was an ideal place for sledding.
The ride was thrilling.
"You could start at the top of the hill and sled all the way out to the light plant," Rex's grandson, John Pottoff, commented.
His story would match generations of sled riders in Waterloo.
"My wife lived along Third Street, and she remembers sled riders giggling and flying by her house until late into the evening," George Schmidt added.
"It was quite a walk back," said Gentsch, "but you could stop in Rex's for that mug of hot chocolate and a marshmallow after your walk.
Rex retired in 1966, but continued to be active in the community. He was often seen bartending or making food at his grandson John's tavern, now J.V.'s. Rex passed away in 1979.
Verna Mehrtens seems to sum up the feelings of former customers best:
"What a special place it was, serving several generations of young and old through the years. It was such a warm, friendly atmosphere where ev- eryone felt welcome and at home."