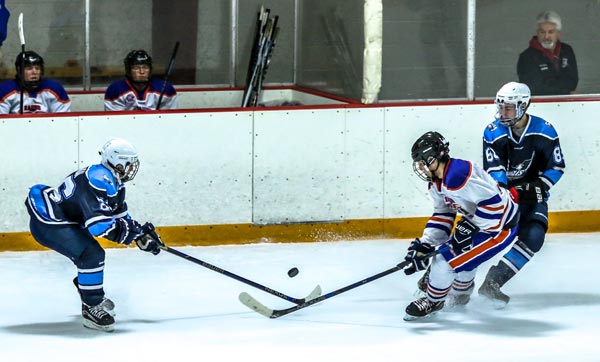 The Freeburg-Waterloo Raging Bulldogs continue to play well this season, improving to 6-1-1 with two wins last week.
Meanwhile, another date with rival Columbia looms as the Ice Eagles seek revenge from a Nov. 10 defeat.
The Raging Bulldogs received goals from leading scorer Paul Malacarne and Parker McDonald in a 2-0 victory over Belleville last Tuesday.
Malacarne has nine goals this season.
"Belleville always plays us tough," Freeburg-Waterloo coach Scott Roberts said. "Both goalies played well."
Raging Bulldogs goalie Peyton Hamilton recorded a 34-save shutout to pick up his league-leading sixth win of the season.
On Thursday, Freeburg-Waterloo faced a stiff challenge from O'Fallon but came away victorious, 4-2.
Hamilton was strong in net yet again, making 17 saves.
Austin Patton notched a hat trick and Jack Lugge added the other goal for the Raging Bulldogs.
The game ended with an odd sequence in what was a heavily penalized affair.
"We were up 4-2 and O'Fallon had a delayed penalty, so we brought Peyton to the bench and for some reason they pulled their goalie too," Roberts explained. "It was a crazy ending and turned it into a true rivalry game."
Freeburg-Waterloo played Triad on Tuesday night in Granite City before a Thursday game against Alton in East Alton.
The Raging Bulldogs will play rival Columbia on Dec. 13 in Granite City.
The Ice Eagles are 6-4 on the season after splitting two games last week and blasting Triad 14-2 on Monday.
Last Tuesday, Columbia lost 7-0 to O'Fallon. The Ice Eagles bounced back on Thursday to trounce Granite City, 13-4.
Sean Hofstetter scored four goals and added two assists in the win. Jacob Matthews added three goals and an assist.
Hofstetter leads the Ice Eagles with 17 goals and two assists this season. Garrett Poole has 10 goals and eight assists.
Columbia will play Collinsville on Monday night ahead of Tuesday's rivalry showdown with the Raging Bulldogs.