In an order handed down Tuesday by Judge Richard Aguirre at the Monroe County Courthouse, a motion to dismiss a wrongful death lawsuit filed by the family of Sheri Coleman against Joyce Meyer Ministries was granted, with a stipulation that it may be refiled within 30 days.
The lawsuit was filed by Sheri's mother and brother just prior to former ministry bodyguard Chris Coleman's triple-murder conviction in May 2011. 
Representing Sheri's family, attorney Jack Carey of Belleville said Tuesday's ruling was not a total surprise.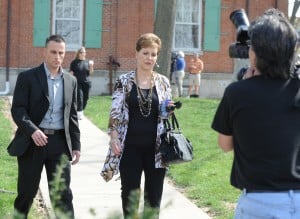 "We will be filing an amended complaint, which we're confident will satisfy the court's concerns," Carey stated in an email to the Republic-Times on Thursday. "We intend to pursue this case against Joyce Meyer Ministries, Inc., on behalf of Sheri and her two boys."
Carey went on to say that Sheri's mother — Garret and Gavin's grandmother — "deserves answers which only the religious corporation can provide."
Chris Coleman is serving three concurrent life sentences for the murder of his wife and two sons inside the family's Columbia home on May 5, 2009.
In an August hearing, attorneys representing Joyce Meyer Ministries and the Sheri Coleman family made arguments on the ministry's request to be removed from the lawsuit.
Joyce Meyer Ministries attorneys said the ministry took the necessary steps of an employer in this matter, and is not responsible for the acts committed by its former security chief.
The family of Sheri Coleman claimed the ministry should have warned Sheri her husband was having an affair, which police testified was a motive in the killings, and "it was the duty" of the ministry to warn the family of threats that were drawn to the ministry's attention by Chris Coleman himself.
Late Thursday afternoon, attorneys for the late Sheri Coleman's family submitted a motion to the Randolph County Courthouse in an attempt remove a preliminary injunction granted last year to Chris Coleman's parents which prevents the slain Columbia mother's family from removing the bodies of Sheri, Garett and Gavin Coleman from a Chester cemetery to Sheri's hometown in Chicago.
There is an Illinois law known as the "slayer statute" that bans anyone convicted of murdering another person from having a say in their burial or estate matters. Attorneys for Sheri's family contend that statute also extends to Chris Coleman's parents.