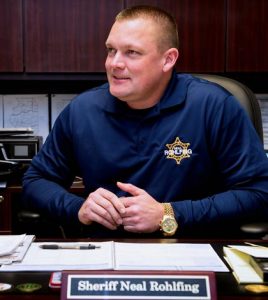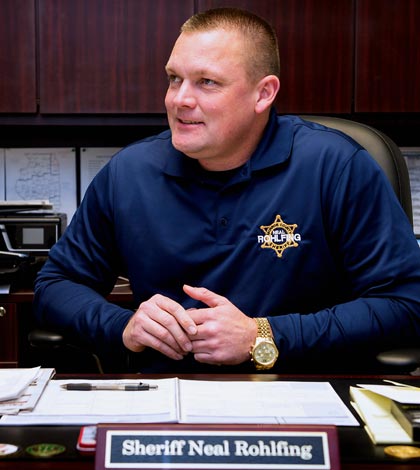 Monroe County is changing, and the sheriff's department has taken notice.
"It's not the Monroe County of 25 years ago," Monroe County Sheriff Neal Rohlfing told the Republic-Times while addressing recent crime numbers.
The population has increased from 22,422 residents in 1990 to 33,879 in 2015.
"A  lot of people have recognized this place as a prosperous, good place to live.  But   some also see it as a target — a place to sell drugs, to steal, to conduct criminal activity," Rohlfing said. "This, in turn, means people need to reassess their situations. If they are seeing crime come to their neighborhoods, locking cars and homes when they aren't present is becoming a necessary precaution for more of us."
Much of that crime comes from adjacent counties and even across the river in Missouri, Rohlfing said.
"Go sit in court some day.  Two-thirds of the defendants are from outside of the county.  Many may be from elsewhere, but when they commit crimes, they become our problem," he said.
The impact of population growth on crime can be quantified. As of July 27, calls for service this year had reached 7,714. That's a pace to exceed 2016, which marked the first year county law enforcement received more than 10,000 calls for service — 10,878 to be exact.
What is Rohlfing doing to try to stay ahead of and even reverse crime trends?  
"First, I inherited a great group of people from my predecessor, Dan Kelley. And I have received superb backing from the county commissioners," Rohlfing said. "And the level of cooperation between law enforcement agencies county wide is unparalleled."
Rohlfing and his deputies patrol a county of 398 square miles, driving more than 60 miles of state highways, 81 miles of county roads, and more than 430 miles of township/road district roads. Add to that miles of dirt roads between farm fields and then more than 40 miles of levee roads.
To meet this challenge, Rohlfing has 17 full-time and six part-time deputies. He has to figure out how to best deploy them to deter and defeat crime, 24 hours a day, 365 days a year.
"After discussion and buy-in by the deputies, we have shifted to 12-hour shifts," he said.
That means they work five days one week and two the next.
"It has reduced overtime, and gives the deputies more time with families and to conduct their own activities," he added.
The department has also implemented a system employing two investigators. These are experienced deputies who have track records of working side-by-side with law enforcement in neighboring jurisdictions, as well as state and federal levels.  Their backgrounds equip them to deal better with criminal activities that cross boundaries and borders.
The investigators are 19-year Monroe County Sheriff's Department veteran Bruce Whipple and Chad Mueller, who came onboard a year-and-a-half ago following employment in the St. Louis County Police Department's Burglary Division.
These investigators focus on a broad spectrum of crimes that are best conducted by experienced law enforcement personnel. They work day shifts, when they can interface with counterparts from other agencies, but can be called in at other times if needed.
Since drug crimes are especially cross-border crimes, the department has also assigned  two deputies to regional anti-drug organizations — one each to the Metropolitan Enforcement Group of Southwestern Illinois (MEGSI) and the Drug Enforcement Agency (DEA).
This give them further experience and produces funds from confiscated vehicles and cash that can be used to finance equipment to strengthen drug enforcement. To date, that has amounted to $37,817.82.
Another innovation is a recently created Aggressive Criminal Enforcement unit.
"We stand up an ACE unit when we learn about potential crimes," Rohlfing said.
ACE focuses on crimes by drug dealers, burglars or sex offenders.
"We want to do the best we can to protect our citizens and their property when we have information they may be in danger," Rohlfing added.
A plus to this program is that the assigned deputies are not being drawn from ongoing patrols, nor are they called on to conduct patrols while they are engaged in an ACE action.
"They are focused on the issue at hand while the regular level of patrolling continues, uninterrupted," Rohlfing explained.
ACE has been in the news twice in the past month. On July 19, they stopped a vehicle on Route 3 near Columbia, arresting the driver for possession of several controlled substances.  A similar incident occurred July 31, when an individual was stopped and arrested with a substantial amount of marijuana and several controlled substances in his possession.
Information sending ACE into action comes from several sources, including the MCSD's anonymous tip line, 939-TIPS (8477).  Citizens with information on criminal activity can also use social media such as Facebook to share information with the office.
Other actions to enhance effectiveness include the recent addition of a second K-9 unit and replacing sedans with SUV-type patrol vehicles. Much of the mileage patrolled in Monroe County is rural, and off-road action is better handled by vehicles with a higher ground clearance and stronger suspensions, Rohlfing has said.
In addition, larger vehicles are better for deputies wearing bulky protective gear.
The goal of the MCSD is to prevent crime, and if that fails, to apprehend perpetrators and secure proper judgments.
"We are here to make Monroe County safer for our citizens, more secure for their property and less attractive to potential criminals," Rohlfing concluded.