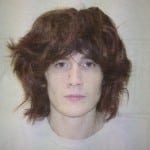 Jordan Kuykendall appeared briefly in court Wednesday morning in Monroe County for a preliminary hearing held on the first-degree murder charge he faces for allegedly stabbing to death his ex-girlfriend, 17-year-old Erin Schneider, in his Columbia home on June 27.
Kuykendall, 20, wore blaze orange jail scrubs, and walked with the aid of a walker, his left foot and lower leg in a removable cast.
Kuykendall stood before Judge Dennis Doyle and waived his right to a preliminary hearing, also known as a probable cause hearing. Such hearings offer a suspect the opportunity to hear the evidence against him as the judge determines if there is sufficient evidence to continue toward a trial. Kuykendall gave simple "Yes" answers to the judge when asked if he wished to waive his preliminary hearing and if he had consulted with his attorney.
Kuykendall's injuries were sustained in a car crash the day of Schneider's murder, when an Illinois State Police report states his Pontiac Grand Am crossed the center line on Route 158 just east of Columbia and collided head-on with a Hummer. He was cited for no insurance and improper lane usage in the crash.
Following the crash, Kuykendall was airlifted to St. Louis University Hospital, where he was treated for several days before being released into the custody of Columbia police; he is currently being held at the Monroe County Jail on $1 million bond.
Kuykendall, represented at this time by Clay St. Clair of the law firm Crowder and Scoggins in Columbia, will next appear in court Aug. 14, at 1 p.m., at the Monroe County Courthouse.
Schneider's body was found by police at Kuykendall's home just past noon on June 27, after family members became worried about her whereabouts and called police, who were let into the house by Jordan's brother, Justin Kuykendall.
Police believe there was a domestic disturbance inside the house between Schneider and Kuykendall some time after 8 a.m., during which Kuykendall allegedly stabbed Schneider repeatedly in the neck and upper body.