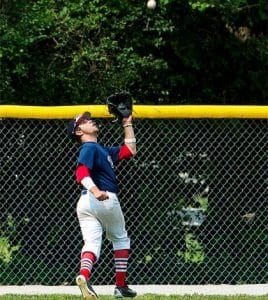 With the regular season now complete, Mon-Clair League teams are just hoping to survive and advance in this weekend's playoffs.
The Waterloo Millers, fresh off their 42nd Monroe Division title, claimed the top seed overall with a doubleheader sweep of Millstadt on Saturday.
The Millers improved to 22-4 in league play and 28-6 overall with the victories.
Following a 5-0 shutout of Fairview Heights in non-league play last Wednesday, the Millers received another fantastic outing from ace pitcher Andy Galle in game one on Saturday.
Galle moved to 7-1 on the season with a 1.91 ERA following six shutout innings in the 7-0 win. He allowed just two hits.
Waterloo's offense was led by Mitchell Krebs and Chandler Purcell, who collected two hits apiece. Lucas Wetzler added a triple and two RBIs.
In game two, Waterloo rolled to a 9-2 victory over the Green Machine. Jeremy Rettig threw four shutout innings of relief after starting pitcher Noah Thaggard was struck by a line drive in the bottom of the third inning.
Rettig allowed just one hit to pick up the win.
The offense was again paced by Krebs with two more hits, including a triple, and two RBIs. Ethan Ruff hit a triple with three RBIs and Trevor Davis added two hits.
Millstadt was led by shortstop Tony Kossina, who had two hits in game two.
The Green Machine bounced back to sweep a Sunday doubleheader over Charleston, winning 10-8 and 6-4.
Rob Beatty went 4-for-5 with two RBIs and Mitch Matecki went 2-for-4 with three RBIs in the game one win.
Millstadt got two hits each from Jarod Mueth, Ryan Hurley, Kossina, Luke Matecki, Beatty and Alex Quirin in the game two victory.
Valmeyer ended its regular season on a high note, sweeping a Saturday doubleheader with Columbia, 14-4 and 6-3.
Cameron Touchette collected six hits on the day to lead the Lakers, including four RBIs, three runs scored and two stolen bases in the game one win.
Wes Degener had four hits on the day, and John Wuelling went 3-for-3 in game two.
The Lakers finished the regular season at 14-12, which is the same record as Monroe Division foes Millstadt and Belleville.
Valmeyer has three of the top 10 hitters in the league in Matt Reinholz (ranked third at .448), Mitch Meyer (fifth at .438) and Wuelling (10th at .419).
Millstadt's Beatty finished fourth in the league at .440. Waterloo's Krebs was eighth in hitting at .421.
With the top seed, Waterloo will host eight seed Charleston this Saturday at noon at Borsch Park in Valmeyer to begin the playoffs. All postseason games are nine innings in length.
Other Saturday playoff games include Millstadt vs. Belleville in Fairview Heights at 3 p.m., Valmeyer vs. the St. Louis Spikes at Borsch Park at 3 p.m., and the St. Louis Printers at Fairview Heights at noon.
Fairview Heights earned the second seed with a 21-5 record.
The winners of Saturday's game will play again Sunday in Fairview Heights, with the Waterloo-Charleston winner taking on the Millstadt-Belleville winner at noon, and the Valmeyer-Spikes winner taking on the Printers-Fairview Heights winner at 3 p.m.
The playoffs will continue Aug. 12-13 at Whitey Herzog Field in Belleville.