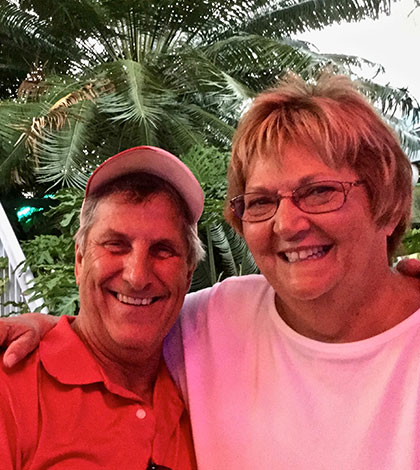 A Monroe County couple is using their retirement to aid in disaster relief through the American Red Cross. 
Terry and Justine Liefer of rural Red Bud made a career in farming and insurance.
In 2017, however, something changed for the couple. 
"We were watching TV last year before (Hurricane) Harvey, and we looked at each other and went 'You know, we could do something to help out. We could help somehow,'" Justine explained.
"We're willing to work with people and get out in those disaster areas," Terry added. "We're comfortable with it and people needed help."
That led to the couple completing training with the Red Cross to help with feeding, mass casualty and disaster assessment. 
Most recently, the couple's volunteering took them to New Bern, N.C., to help with disaster relief following the devastation of Hurricane Florence.
They arrived a few days before the storm made landfall on Sept. 14, staying in Virginia at first. 
The Red Cross then moved the couple and a few thousand other volunteers to the affected areas to perform various tasks. 
For Terry and Justine, that meant driving an emergency response vehicle around and serving food to victims of the hurricane. They were on deployment for two weeks, working 12-15 hour shifts seven days a week.
An emergency response vehicle is similar to an ambulance or van used by companies like FedEx that is equipped to serve food.  
Sometimes, they would deliver the meals in neighborhoods as residents went through the flooded remains of their homes. Other times, they traveled to a shelter to drop off a few hundred meals. 
Regardless of the destination, Justine said she had to steel herself against the devastation she would see.
"You kind of have to prepare yourself for that, mentally," she said. "You see how these people are affected and you're like, 'Wow. How are they going to come out of this?'"
The couple said they played only one part of helping the people recover from the storm. 
In addition to the thousands of Red Cross volunteers, there were volunteers from the Southern Baptist Disaster Relief organization to prepare food and several government agencies present to assist in the relief efforts.
"For the most part, everyone's there to help," Terry said. "They're always helpful and willing to do what they need to do."
Justine said the residents of New Bern appreciated the help, no matter where it came from.
"They're really thankful," she said. "They always really appreciate that you're there and want to know where you're from."
Terry said that although he and Justine were there to help others, they also got something out of it. 
"It makes you feel good," he said. "Just the fact that you can help somebody is just good."
Hurricane Florence was not the first time the Liefers got to use their training help others, though. 
In 2017, they traveled to the Houston, Texas area to help with relief efforts after Hurricane Harvey. They arrived in September, just days after the hurricane made landfall.
The Liefers once again assisted by serving food to disaster victims.
They said the destruction wrought by Harvey appeared worse than Florence, though that could have been due to the timing of their arrival. 
"The first time we got on our route and got into the streets, that's when we realized how bad the devastation was," Terry said. "It's hard to describe."
Again, the Liefers volunteered for two weeks before returning back to Monroe County.
They were not back home long, however, because the Red Cross soon asked them to go to Napa Valley, California to help with wildfires raging in that area.
The couple did the same job they did in Texas and North Carolina, though they also helped with disaster assessment. The type of disaster made this experience even more different. 
"It's different because with the floods you had people there trying to clean their houses out," Justine noted. "When all you've got is a pile of burnt rubble, people aren't there."
Terry said most of the streets were lined with burnt shells of vehicles and piles of burnt rubble with chimneys sticking up where buildings used to be.
"It's just like somebody dropped an atomic bomb," he said. 
One of the few groups of people the couple did come across was a group of migrant workers. 
"They didn't want to be found because they thought they were illegal," Terry remembered. "But we found a cluster of them and our job was to help them… We don't make any decisions as far as who it is that we help. Our job is to help."
In addition to their work across the country, the Liefers also help with immediate disaster relief in Monroe, Randolph and Jackson counties, meeting with people after something like a fire happens to help them get assistance. 
This often takes the form of a debit card provided by the Red Cross. 
"It's just immediate help for them, like if somebody's house burns down and they don't have any clothes," Justine said. 
Throughout all their areas of service, Terry said he and his wife keep one thing in mind.
"Everybody's from all over the country, but we're still all the same people," he said. "We're all human beings. We all get down and need a smiling face or somebody who cares."
The Liefers encouraged others to join them in their efforts if they can.
To learn about how to do that, go to redcross.org.