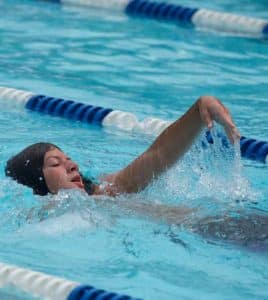 It was a long journey, but the Columbia Hurricanes are finally back on top.
Just four years after the swim team was shut down, the Hurricanes used a total team performance to claim the Kaskaskia Conference championship on Saturday in Sparta.
Columbia finished first with 2,137 points, Sparta Country Club followed with 1,964.5 points, Greenville took third with 1,822.5 points, Sparta Municipal was fourth with 1,490 points and the Waterloo Piranhas placed fifth with 979 points.
Columbia head coach Bart Jones was thrilled with his team's performance. While acknowledging Broedy Ferlow, who won the high-point award in the 8-and-under boys division, Jones said the entire team contributed to this victory.
"It was a total team effort," Jones said. "We had a lot of kids scoring in the top eight, and every point helps."
The win marked a miraculous turnaround for a team that had disappeared from the conference four years ago. The team was reborn a year later, but with only 25 swimmers, the Hurricanes did not have much success in the pool. Once a perennial league contender, Columbia was stuck at the bottom of the conference standings.
But the 'Canes never gave up hope, and now they're back on top.
"When we got it going again, I had in mind that we could do well in this league," Jones said.  "I didn't expect it to happen this soon. It's great to see the hard work pay off — especially for some of the older kids who have been around for a while. To go from last place to first, it shows them that if you stick with something, it can pay off. I think the kids saw that today."
The title is extra special for Jones, a Columbia native who spent his childhood making waves for the Hurricanes.
"This is the pool where I grew up and swam," said Jones. "It's exciting and personally fulfilling for me."
Columbia's resurgence may offer a glimmer of hope for the Waterloo Piranhas, who are facing similar issues as the ones the Hurricanes have overcome.
The Piranhas have seen a steady decline in swimmers since the Waterloo city pool closed after the summer of 2009. The team had barely 40 swimmers this summer, meaning the Piranhas were swimming against teams twice their size in almost every meet.
Still, the Piranhas persevered. Though they finished fifth at Saturday's conference meet, the team turned in several outstanding performances. Several Piranhas earned high-point awards.
Calla Espenschied won second place in the 8-and-under age group, with teammate Sydney Kuergeleis placing third. In the 9-10 division, Ellie Ahne took third place and Sophie Breitwiser claimed the top prize, scoring an astounding 60 points.
The Piranhas were also well-represented in the older age groups. Jaycee Cotton scored 49 points to earn third place in the 13-14 age group. Janie Kehrer captured first place in the 15-18 age group, with dedicated senior swimmer Chase Rubemeyer taking third in his final meet.
Waterloo head coach Vickie Kehrer expressed her pride in every swimmer, young and old, newcomer and veteran.
"Coach Andrew (Dressel) and I are extremely proud of our team and the tremendous improvement each one of them has made this season," Kehrer said. "Several of the swimmers overcame obstacles which helped them improve their abilities in and out of the water. We're proud of how they learned to interact with one another, communicate, and cheer on their teammates and opponents."
Such positive attitudes in the face of adversity helped the Piranhas win the league's Sportsmanship Award for the second year in a row.
Though the team is still battling for stability, Coach Kehrer is hopeful for the future.
"We're all looking forward to next season," she said. "We know we can only improve from this point forward."
Dupo's Hilltoppers Swim Club Gators placed sixth in this year's Midwest Conference meet, which took place in the scorching 100 degree heat Saturday in O'Fallon.
In spite of the heat, the team put together a strong showing, led by a few tremendous individual performances.
The 13-14 boys were among the biggest stars of the whole meet. The group scored 222 points and broke several conference records.
Carter Nelson led the way, setting new records in the 50 butterfly, 100 freestyle, and 100 individual medley. Additionally, the boys freestyle relay team of Nelson, Alex Rosenkranz, Caleb Bahr and Sam Rosenkanz swam the 200 freestyle relay in 1:52.01, shattering the previous conference record.
Alex Rosenkranz placed fourth in scoring in his age group, with Sam finishing in seventh.
Jase Nelson finished second in the 8-and-under boys division. Hilltoppers head coach Salle Plunkett was extremely proud of Nelson's accomplishment.
"Jase is so fun to watch," Plunkett said. "His drive is amazing for an 8-year-old."
Plunkett also praised several other swimmers, noting that each team member has contributed to the team's success this summer.
"We have so many swimmers this year that have just started swimming or have not been swimming long who accomplished making it to the conference team," Plunkett said, mentioning Amy and Jonah Velnosky, Lawrence and Mahmud Almefleh, Dane Quevreaux, Nolan Sanders, Amy Holman and Hailey Wilkerson.
Plunkett also took time to recognize several returning veteran swimmers, including Caroline and Claire Thebeau, Mya Wirth, Maggie Parks, Morgan Jacob, Brenna and Caitlyn Knox, Megan and Katie Jung, Grace Busch, Eva and Mae Descher, Kira Woldanski, Vincent and Elena Oggerom Nick and Caleb Bahr, and Carter, Elizabeth and Hannah Hickel.
With a healthy blend of youth and experience, Plunkett expects the team to be even better in 2017.
"We have reached a point where we are now starting to rebuild the team to come back stronger next year," Plunkett said. "We are already in the process of revamping our swimming lesson program and gearing more toward the goal of every swimmer in the water being a potential swim team member. We are working on the team goals and are creating a whole new and exciting program to get and keep kids interested in swimming."