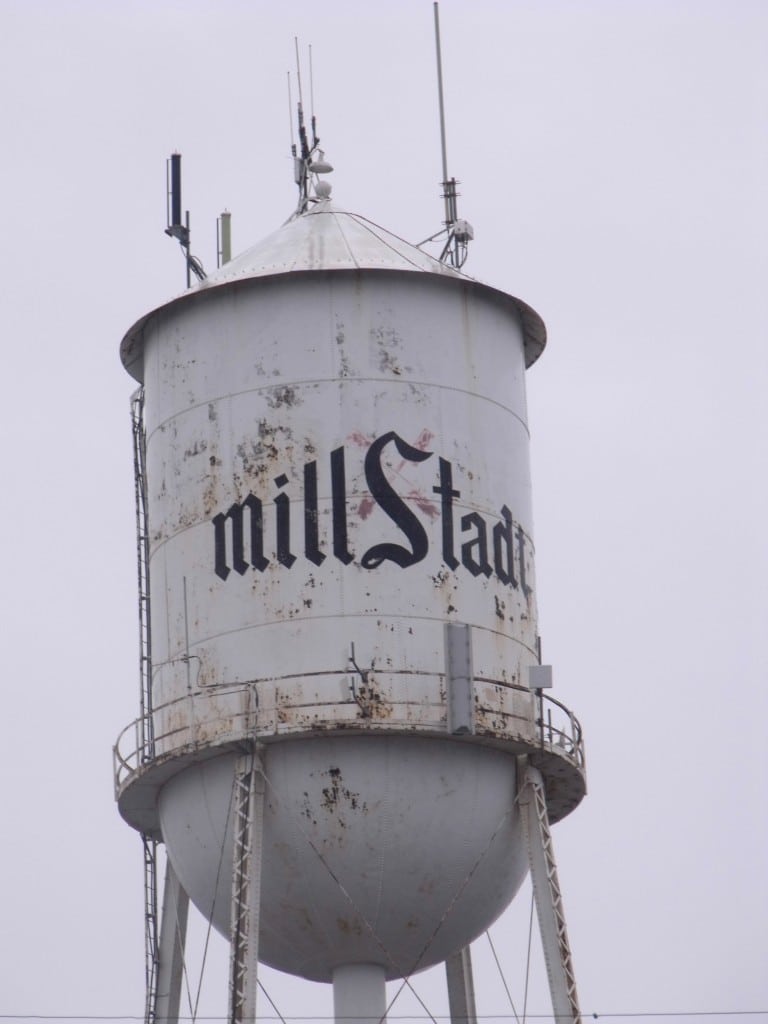 While the fate of Millstadt's old "tin man" style water tower remains in limbo, a grassroots citizens group has formed in hopes of saving what they call a historic village landmark.
The old tower, which has been a fixture of the Millstadt skyline since 1933, was taken out of service April 29, 2011, as increased demand called for a new 500,000-gallon water tank off Polk Street to replace the aging 125,000-gallon tower.
A distraught individual climbed the old tower on July 15, 2011, after which current Mayor Weldon Harber and others called for it to be torn down as a safety precaution.
However, Harrisonville Telephone Company has equipment on the tower to provide wireless Internet service to Millstadt residents. HTC has stated that 75 percent of its wireless Internet customers in Millstadt are served by equipment on this tower.
In addition, St. Clair County 911 investigated sites when planning to implement its 800 megahertz radio system. The tower was chosen as one of 10 sites to locate 911 transmission equipment due to its location.
The Village of Millstadt signed a 25-year agreement with St. Clair County 911 in April 2004 for communications equipment on this tower.
Most recently, a new group called "Friends of the Old Millstadt Water Tower" has formed and collected approximately 1,000 signatures in support of efforts to form a non-profit entity that would take on the responsibility of preserving the tower. A page titled "Save the Millstadt Water Tower" has also been created on Facebook.
The signatures were presented to Mayor Harber at the Feb. 19 village board meeting.
The village currently does not have funds to preserve the old tower, but the group has requested time to investigate options for verifying structural soundness of the tower, possible fund-raising efforts, and long-range planning.
In the meantime, bid specifications are being developed by the village's engineering firm to seek bids for both the cost of painting and cost to demolish the tower.
No discussion has taken place as to who would pay for the cost of a new tower to house the emergency communications equipment and HTC wireless Internet equipment should the old tower be demolished.