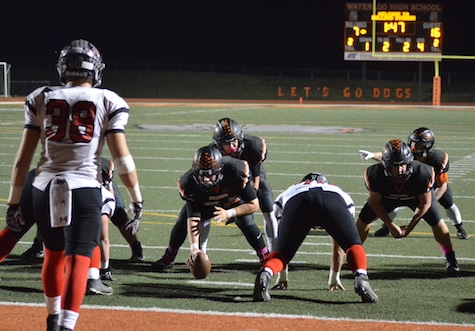 It was an unlucky Friday the 13th for the Waterloo and Columbia football teams.
Needing a win to keep their playoff hopes alive, the Bulldogs dropped a heartbreaker at home to Triad, 23-14.
Waterloo cut Triad's lead to 16-14 with just under two minutes remaining in the contest, but the ensuing onside kick attempt was illegally touched by the 'Dogs. Triad iced the game with a 37-yard touchdown run, dashing Waterloo's playoff hopes.
Both teams had their share of turnovers, but Triad turned more of Waterloo's mistakes into points.
A long kickoff return by Bryce Kirk led to the first of Jake O'Daniell's two TD runs for the Bulldogs on the night to tie the game at 7-7 late in the first quarter. Triad added a field goal in the second quarter to go up 10-7 at halftime.
Waterloo lost a fumble deep in its own territory to start the third quarter and Triad cashed in with a field goal to increase its lead to 13-7. A 41-yard field goal with the wind put the Knights up 16-7 late in the third quarter.
With the Bulldogs driving, a Triad interception looked to lock up the game midway through the fourth quarter. But Kirk recovered a Triad fumble just a couple of plays later and the 'Dogs were back in business. Waterloo failed to capitalize, however.
Triad fumbled again on offense and Waterloo recovered. This time, the Bulldogs cashed in with O'Daniell's second rushing score. That would be the end of Waterloo's scoring, though, and the Bulldogs are now eliminated from playoff contention at 3-5.
Columbia falls at Red Bud
In Red Bud, Columbia ran into a high-powered Musketeers offense led by quarterback Griffin Ziebold. He threw for 336 yards and four TDs as Red Bud toppled the Eagles, 41-21.
The teams were tied 7-7 at halftime, but Red Bud piled on the points in the second half. A 20-point third quarter put them comfortably ahead entering the final frame.
A Red Bud TD at 2:15 of the fourth quarter put the Musketeers up 41-14.
Sam Horner caught two TD passes for the Eagles, the first one from twin brother Nic Horner for 31 yards and the second from Shane Wilhelm for 39 yards. Sam Horner finished with 80 yards receiving on the night.
Columbia senior running back Colton Byrd, who returned last week from a serious knee injury, ran for 110 yards on 19 carries Friday night but failed to reach the endzone.
Alex Birchler finished with 202 yards receiving and three TDs for Red Bud (5-3), which ends its regular season at home next week against Sparta.
Columbia (5-3) ends its regular season next week at Jerseyville (3-5).
In other local high school football action, Dupo dropped to 0-8 on the season with a 42-20 defeat at home to Pawnee.