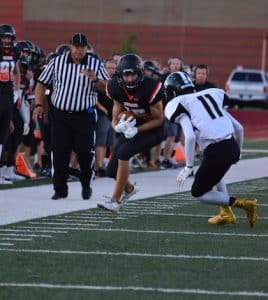 In a dog fight at Waterloo, the Bulldogs used big plays to down the Carbondale Terriers, 24-14.
Waterloo quarterback Ross Schrader connected on a 69-yard touchdown pass with Kyle Knefelkamp to put the Bulldogs up 7-0 at 9:26 of the first quarter.
A 32-yard scramble by Schrader put Waterloo in command at 14-0 to end the first quarter.
Schrader hooked up with Knefelkamp again for a 70-yard TD in the second quarter and Waterloo led 21-7 at halftime.
Carbondale's Kenan Abed scored from 5 yards out to put the Terriers on the board late in the first half.
The Waterloo defense stifled Carbondale's offense early and contained the Terriers enough in the second half to hold on.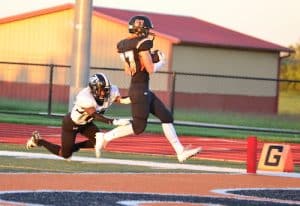 The Bulldogs had a fumble recovery and interception in the second half to end Carbondale's chances to get back in the game.
The Terriers added a late TD, but ultimately fell short. The final was 24-14.
Schrader finished the game with 11-for-23 passing and 211 yards in addition to the two TDs. Scott Nanney led the 'Dogs in rushing with 58 yards.
For the full story of all the weekend's football action, pick up the Sept. 14 issue of the Republic-Times.