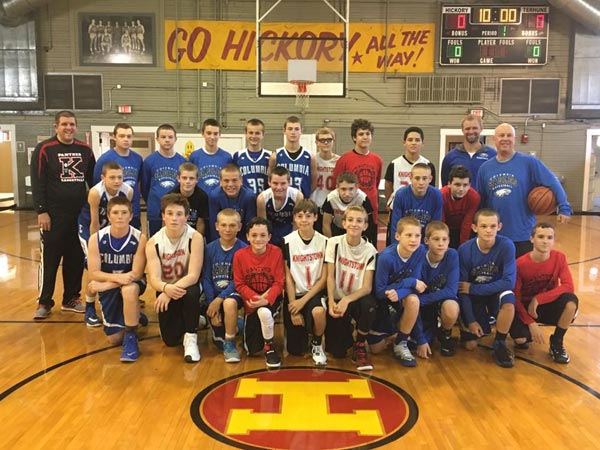 The Columbia Middle School basketball team and its longtime coach fulfilled every hoops player's dream over the weekend.
"Amazing trip," CMS head basketball coach Jon Wehrenberg said. "It has been a few years in the making."
Wehrenberg and his team visited the historic Hoosier Gym in Knightstown, Ind. In 1986, Knightstown's old high school gymnasium became home to the "Hickory Huskers" in the classic movie "Hoosiers" starring Gene Hackman.
The movie told the story of the unique phenomenon known as "Hoosier Hysteria" — Indiana's obsession with basketball.
What's more, the CMS hoops team had the fortune of playing a game on the legendary basketball court, winning a contest against the local team from Knightstown.
Wehrenberg and his players even got to meet and listen to Bobby Plump. Hickory's star player in the movie (Jimmy Chitwood) is loosely based on Plump, most notably in that Chitwood's last-second shot in the championship game was taken from the same spot in the same building as Plump in the 1954 state final.
Plump was a member of the Milan High School hoops team that won the Indiana state tournament in 1954. He was selected as Indiana's "Mr. Basketball" that year and went on to play at Butler University. He also played three years for the Phillips 66ers of the National Industrial Basketball League.
"I became friends with Bobby Plump and he gave me the idea (for this trip)," Wehrenberg told the Republic-Times. "It has always been on my bucket list to play a game there before I retire."
Wehrenberg has spent 32 total years in coaching, with the past 22 years being in Columbia. He plans to retire in two years.
"We were given a tour of the gym and told the history behind it," Wehrenberg said. "We ended the trip by either going to a Butler game or Indiana Pacers game."