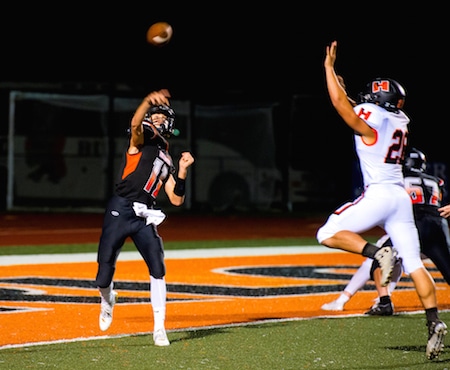 The season opener for Waterloo High School ended with a disappointing 28-21 loss at home to Herrin.
Things started off promising for the Bulldogs with a quick score in the first quarter. A 56-yard run by junior running back Dalton Viglasky was followed with a touchdown run by Clayton Watters at 11:24. The extra point kick by Tyson Roedl put Waterloo up 7-0.
But Herrin tied it at 3:33 in the first quarter on a TD run by Jase Gosha.
Waterloo went back on top midway through the second quarter when Jesse Matthews punched over a short run and kicker Roedl added his second PAT to make it 14-7.
Herrin recovered a fumble on Waterloo's 20 yard line, and Gosha added his second TD with 4:09 remaining in the first half to knot the score at 14-14.
Waterloo's Jackson Ivers hauled in a 56-yard pass from quarterback Graham Baker, which was followed by Watters' second TD run of the night to put Waterloo back on top, 21-14, at half time.
Herrin tied the score at 6:26 in the third quarter when Gosha scored his third TD of the night, and grabbed the lead at the end of the quarter when Tate Johnson blasted into the endzone.
Herrin threatened to go further ahead in the fourth quarter, but Waterloo stopped them on their own 18 yard line with just under a minute on the clock. However, the Bulldogs were unable to move the ball much from there and the clock ran out on their comeback attempt.