By ANDREA DEGENHART and COREY SAATHOFF
For the Republic-Times
(This is the first of a three-part series marking the 20th anniversary of the Flood of 1993 and eventual relocation of Valmeyer.)
A mural painted by Olivia Gude with the help of students, faculty and community workers was unveiled at the old Valmeyer Public Library in May 1993. The theme of the 54-foot long mural was "A River Runs Through It." Pictured, Marcia Braswell, at the podium, speaks at the unveiling of the mural. (photo courtesy of Dennis Knobloch)
Floods are nothing new to the people of Valmeyer. Since the Bottoms were first settled, the rising waters of the Mississippi River have pushed communities farther and farther from its banks.
The close-knit community weathered floods in 1903, 1943 and 1973 — regrouping, rebuilding and reaffirming their commitment to stay put. But the Flood of 1993 changed all that, forcing the town's 900 residents from their homes, but not their community.
To understand Valmeyer's remarkable journey from a flood-ravaged town nestled at the base of the bluffs to a thriving community perched atop high ground, it is necessary to see Valmeyer as it was.
"It was kind of like your ideal country town," said longtime resident Susan Schillinger, one of the few who still live in the old town. "Everybody watched out for their neighbors."
In 1993, old Valmeyer had schools for preschool through 12th grades, located west of the railroad tracks. There was a public library that had fortuitously unveiled a mural entitled "A river runs through it," celebrating the town's history and inextricable link to the Mighty Mississippi — just two months before the flood.
There was a bank and three gas stations, three churches and two taverns — the old Corner Pub was located near the railroad crossing at Main and First streets; Partners Inn was located at Main and Lake streets.
Lake Street, now home to corn and bean fields, was a hot- bed of activity. Schneider's grocery store and meat market, located on Lake near Main next to the post office, brought people into town from all across the area.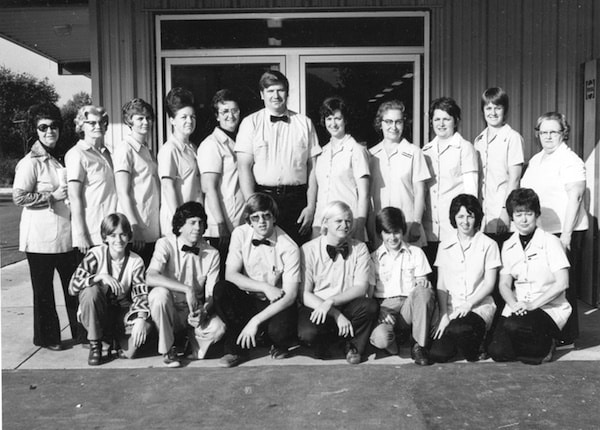 "We were always very busy," said Rayma Rippelmeyer, who started working at Schneider's in 1969 and retired from its current location in Waterloo last year. "It was the biggest thing in town."
In fact, Schneider's was the first grocery store in the county to use scanners at the checkout counter.
Jake Kohnz ran a barbershop on Main Street, and Barb Goldschmidt ran a beauty shop. Until the early 1990s, Valmeyer had its own hardware store, next to the bank on Main Street.
It was common to see a gaggle of kids playing next to the elementary school on the playground that was dedicated in 1990. A large shade tree outside the high school provided the perfect meeting place for teens seeking a break from the rays and a minute with their friends.
The Valmeyer firehouse was at the corner of First and Frederick, just west of the tracks, and is one of the few structures that still stands in the old town today.
Businesses in town included MAR Graphics, which was located next to Borsch Park and employed about 100 people. There was also Foster Pond Industries, located on the west end of town. Run by the Badger family, they made shoe accessories like tassels, buckles and shoe trees, primarily for Brown Shoe Company in St. Louis.
Dennis Knobloch, the mayor of Valmeyer from 1989 to 1995, said Valmeyer's residents had always been aware of the potential for flooding. Knobloch has written a book he will release this fall chronicling the town's history of flooding, "49.58 and ankle deep on first base."
The fall of 1992 had been a wet one, followed by a snowy winter and wet spring, putting planners on alert as early as January.
"It was just something to watch at that point," he said. "We were always told the levee system built around here was one of the best in the Midwest."
And the rain didn't really stop. An unseasonably wet late spring and early summer delayed the planting season to its latest in 30 years, and roads were in rough shape.
But life went on in Valmeyer, even as the river rose. In mid-June, Ron and Carol Krebel received permission to open a snow cone stand next to Niebruegge Garage on Main Street. Terry Peters had just purchased the apartment building on Main, and was planning extensive interior and exterior renovations.
When the Mid-Summer Celebration rolled around over the July 4 holiday, a potential flood was squarely on the minds of many in and around the county.
Around that time, sand boils started occurring up and down the levees in Monroe County as the river reached 40 feet — 10 feet above flood stage. Teams of volunteers were tasked with keeping constant watch on the levees, looking for signs of trouble, and an evacuation plan was put into place — just in case.
The Valmeyer Homecoming, scheduled for July 16-17, was canceled due to the number of flooded roads and potential for even greater flooding. Bottoms residents were instructed to stop using well water for drinking or cooking, as the chance of contamination was high. Residents were instructed to start moving their belongings to higher ground — again, just in case.
As some farmers worked against the clock to move equipment and livestock to safe harbor, others found themselves having to sell what they couldn't move.
"It will be like starting over," farmer Joe Sondag told the Republic-Times at the time. Without anywhere to move his hog farm operation, he was forced to sell, including his breeding stock.
Emergency planners decided the town would be evacuated if the river reached 46 feet. But 46 feet came and went, and the levees, raised and reinforced with sandbags, seemed to be holding.
They continued to hold through an all-time record flood stage of 47.1 feet on July 20, and planners decided to hold off on mandatory evacuations until a breach was imminent or in progress.
The National Guard came in to help control the traffic snarls caused by city folks hoping for a look at the Bottoms area, which was now a regular feature of local news reports. They also helped with sandbagging and monitoring the levees, which were the object of herculean efforts to keep stable in the area of Columbia, where sand boils and underseepage were threatening more by the day.
On July 25, Valmeyer residents got their first voluntary evacuation order, and on July 30 they were told to make arrangements to sleep elsewhere, although they could still come into the town during the day to move possessions and check on property. By this time, repairs to the levee at Fort de Chartres were deemed futile and a breach imminent. Emergency planners estimated flood waters from a Fort de Chartres breach would reach Valmeyer within 12 hours.
But it would be levees north of Valmeyer that would seal the community's fate, as a river level of nearly 50 feet lay just ahead, ready to make its force known on Aug. 1… and change the landscape of Valmeyer forever.