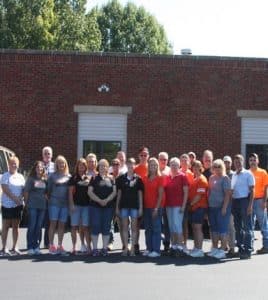 Jack Latchem takes as much pride in the Waterloo school district as any athlete, teacher, Bulldogs fan or student.
"I don't think anybody can find schools in any other school district in better shape than Waterloo provides inside and out," he said.
Latchem, the district's building and grounds director, began his role 23 years ago and has brought up four kids through the district. The Waterloo man supervises more than 20 employees involved in maintenance and custodial work.
Two custodians work at the junior high school and six are split between Zahnow, Rogers and Gardner elementary schools. The high school works with six custodians, which is about half as many as other area high schools, but the staff more than makes up for being shorthanded with the amount of effort put into keeping the school cleaned.
"It's a lot of hard work and not a lot of time to do their job, but it's an outstanding job that they do," Latchem said. "When people come in and see how nice the schools look, they wouldn't know we are short-handed."
Most recently, Latchem felt proud of the staff's performance when everyone managed to get the buildings in order before the start of the school year. In doing so, they faced the challenge of cleaning the junior high school and Rogers Elementary in only a week.
"I'm not sure how the custodians managed to clean the entire north building in a week's time," Waterloo Junior High School principal Nick Schwartz said. "It looked exceptional on the first day of school."
The reason the staff worked under such a tight deadline is because of renovations done to the junior high and Rogers over the summer.
These renovations included replacing a number of windows at WJHS, as well as replacing Rogers' heating, ventilation and air-conditioning systems. The project also included replacing north and south corridor lighting at Rogers with LED lights and other projects.
In order to get the cleaning done in time, workers came over from other school buildings to help the junior high custodians — the kind of teamwork the staff built from an understanding of reciprocity.
"Everybody's been in that position where they've needed that help," Latchem said.
The amount of cleaning needed before schools opened included wiping down desks and putting them back in their proper places, wiping down light fixtures, waxing floors, cleaning lockers inside and out and everything in-between.
"They're the kind of people you would like to hire to come clean your house," Latchem said.
Yet, custodians don't make up Latchem's entire well-to-do staff, as maintenance workers also play a key role in the district. Latchem noted the maintenance staff has helped save a lot of money with doing repairs in-house. In one of the buildings, the staff managed to fix an A/C unit — work Latchem believes would have cost the district thousands.
"We try to do everything we can here before we call out to somebody," he said of the district hiring contractors.
In part, Latchem and his crew commit to keeping the buildings cleaned and maintained because of the standards set in the community.
"We live in a community expectant of (a high level of cleanliness)," Latchem said. "You can tell when you drive around Waterloo."
Most importantly, though, the staff goes the extra mile to keep the schools safe.
"Safety is the first thing with kids and staff," Latchem said. "We want to provide a clean, healthy place to work and learn."