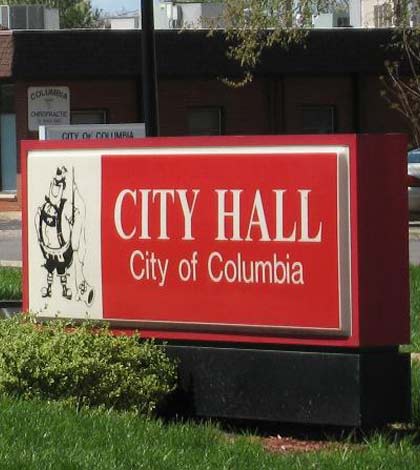 The Columbia City Council aldermanic race on April 2 features three challengers tied to an outspoken independent contractor currently embroiled in a lawsuit against the city.
Ward I alderman Steve Reis is challenged by Jay Riddle, Ward II alderman Steve Holtkamp by Harold McCarty and Ward IV alderman Kevin Martens by Pat McDermott. Only Ward III alderman Jeff Huch is running unopposed.
"I'm responsible for recruiting those three to run," local developer William Wilson said of Riddle, McCarty and McDermott. "In two more years there are at least three (more aldermen) who will be contested — I'll make sure of it."
Wilson, owner of Laurie Homes, sued the city last year after being denied an occupancy permit for a house he was building on Lakeshore Drive when it was discovered he was building it four feet too close to the street. A subsequent request for a variance from the city for the property was denied and Wilson filed a lawsuit against the city. It is ongoing.
The city had previously approved a variance for Wilson for a residence he erroneously built within a city utility easement.
Wilson picked up election petitions for Riddle and McCarty, helped circulate petitions for McCarty and McDermott and filed the petition for Riddle, Wilson acknowledged. He also paid for Facebook video ads for Riddle and McDermott. None of these actions violates election laws.
As the city council and administration decided how to handle the issue of the building code violation, Wilson said he felt like he was targeted and treated like he was lying about what he describes as a simple error caused by a new employee in measuring the site. In earlier discussions with city officials, Wilson said he was the one who made the error.
"I don't think people should have to come before the city council and be accused of lying," he said.
Wilson also noted a lack of respect he said he's seen in the city's dealings with him and others seeking help.
"I tried to find aldermen (candidates) that I thought would be fair and less hurtful," he said.
Wilson admits he has been friends with Huch and Columbia Mayor Kevin Hutchinson for some time, but stressed he is not using that relationship to curry favorable results.
"I've been accused of trying to ask for a favor. I've never asked favors of Jeff or Kevin," he said.
Wilson's lawsuit is currently in the U.S. District Court for the Southern District of Illinois awaiting assignation of a trial date.
"Why should this activity be a concern? This independent contractor has twice initiated home construction projects with structures located within city easements, which is a direct violation of city code," Columbia City Clerk Wes Hoeffken wrote in a letter to the editor that appears in this week's paper. "The first incident was easily remedied by the city with an easement relocation. However, the second incident was not able to be remedied and when the Columbia City Council acted to enforce the code, the contractor filed a lawsuit against the city.
"We don't need Chicago politics in our own community."
---
If you don't already receive the Republic-Times newspaper, click here or call 939-3814 to subscribe.