The Little Mermaid | Movie Review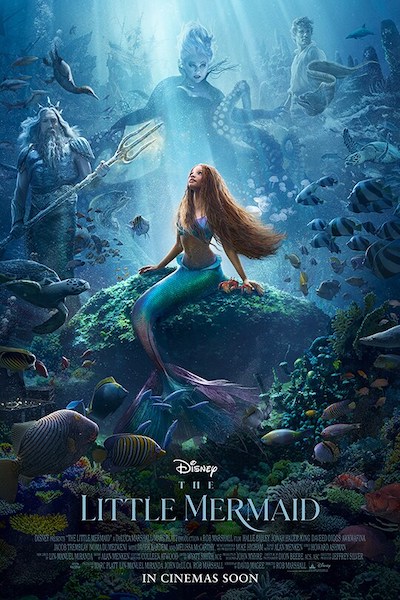 After leaving the theater, I heard the phrase "I didn't have high expectations" from reviewer after reviewer.
Indeed, I would guess many of us felt the same way. After all, with this new and rather lazy, money-grubbing attitude where folks are just remaking hits and retooling formulas they can bank on, Disney's "live action" remake of the 1989 animated "The Little Mermaid" made many of us say, "here we go again."
In case you've forgotten, the movie is based on the 1837 Hans Christian Andersen tale in which a mermaid, enamored by the things of the world above water, longs for a chance to sample life as a human. The mermaid falls in love with a prince, makes a deal with a powerful sea witch, then experiences the turmoil of choosing between a new life and the old one.
In most cases, I was pleasantly surprised. Director Rob Marshall gave the new Ariel (played by Halle Bailey of the R&B duo Chloe x Halle) quite a bit more to work with as a character. Bailey has an expressive face, refreshing depth and plays both the naive ingénue and the determined, level-headed young woman simultaneously. British actor Jonah Hauer-King's Prince Eric is square jawed, regal and swashbuckling, and embodies just enough longing and angst to make us root for his wish to explore outside the kingdom. The chemistry between Ariel and the Prince is off and on, but is for the most part believable.
This script stays mostly loyal to the original but adds some nice nuances with Ariel's wordless explanations of the undersea world to an amazed Eric. Not only did the director allow for some clever moments between the two during Ariel's muteness; we were also able to hear her singing voice in thoughts. These moments help elevate this picture above the heap of mediocre-to-awful Disney remakes.
The supporting cast is solid and fantastic. Daveed Diggs once again offers superb pacing as Sebastian, and Awkwafina adds a new, fresh spin on the scatterbrained Scuttle. Javier Bardem as Triton is deep and poignant – especially as he wishes Ariel well in her new life with Eric. I felt sorry for Jacob Tremblay, the voice of Flounder and a somewhat uncomfortable afterthought, it seemed.
As expected, Melissa McCarthy dominates as the sea-witch Ursula, channeling a variety of personas and camping it up with her special brand of comedic timing and penchant for improvised dialogue.
I have to say I was somewhat underwhelmed by the special effects, although it has to be tough to recreate a believable underwater world in live action. It should be noted that the words "live action" are used generously here, as most of the movie is CGI. This fact actually made me wonder why the effects weren't better. At times colorful and lively, and at times dark and even hard to see, the visuals seem somewhat unbalanced. Still, there are moments in the film where things look good and there are enough of those to keep us visually interested.
I'd recommend seeing the film in a widescreen format, if possible. It definitely has more appeal.
This remake is dutifully yet refreshingly diversified, has the same catchy Ashman/Menken tunes we are familiar with (and three new ones), and is inviting enough to make it a good outing for the family. Some scenes near the end may be scary for very young children.
Overall, a commendable effort.
My grade: B
"The Little Mermaid" opens in theaters Friday, May 26, and is rated PG. Running time is 2 hours, 15 minutes