The Holdovers | Movie Review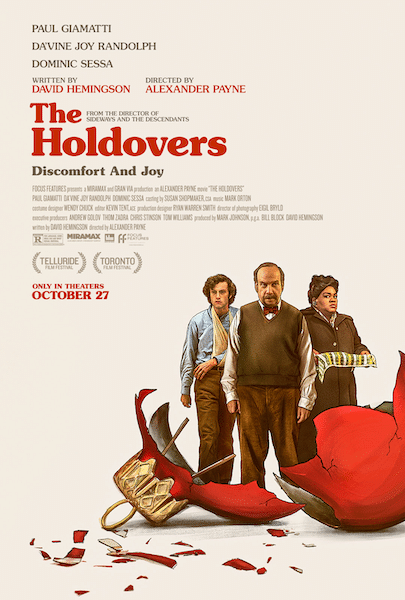 I am a fan of Alexander Payne for many reasons. I like how he doesn't sugar-coat things. I like that he is a director who is character-centered and one that seems to focus on the "warts-and-all" aspect of humanity. I appreciate how he pays attention to the authenticity of a picture.
And I like that he is partial to Paul Giamatti. So am I.
Payne's latest film, far removed from the undervalued "Downsizing" in 2017, is titled "The Holdovers." It tells the story of a fictional New England prep school, Barton Academy, during the holiday season of 1970.
Paul Hunham (Giamatti) is a cantankerous, no-nonsense professor who has been at Barton since he was a student, and has the demeanor of an old-school instructor; one who tries to stick to principles but must acquiesce to the politics that often involve rich benefactors and their academically challenged offspring.
Mr. Hunham is unpopular, arrogant, and snobbish; he suffers from strabismus and trimethylaminuria, both of which add to his status as the campus ogre. The maladies, respectively, cause his eye to wander and his body to have a fish-like odor. Therefore, a nickname of legendary proportions is given by his students: Walleye.
Because he has recently failed the son of a senator, Hunham must serve as the faculty member who watches after the "Holdovers"; students who, for various reasons, are unable to go home for the holidays.
Of the five students left in Hunham's care, four are whisked away (by a Christmas miracle) from their campus fortress for a week-long ski adventure, while Angus Tully (played by newcomer Dominc Sessa) is left behind due to his parents being unreachable and therefore unable to give official permission.
Hunham, Tully, and campus head cook Mary Lamb (Da'Vine Joy Randolph) become an uncomfortable and unlikely threesome, and embark on an adventure after Hunham is convinced that a side trip to Boston can be counted as a campus field trip. Along the way, the characters reveal things about themselves that not only help them understand one another, but also face the tasks of healing their own wounds and demons.
Randolph is poignant and solid as Mary, a no-nonsense woman grieving the loss of her son in Vietnam, who forges ahead with her opinionated comments to Hunham, knowing full well that they will cut through his curmudgeonly veneer.
Sessa is outstanding in his acting debut, recently plucked from Carnegie Mellon School of Drama, and named by Variety as one of the 10 new actors to watch in 2023. He works well with Giamatti, able to hold his own and sometimes, dominate. A scene in which Hunham gives the young Tully a pep talk is priceless and a masterful bit of acting; and that's just one of many superb moments.
We will be seeing much, much more from Sessa and a supporting actor Oscar nomination is not out of the question.
Giamatti is an acting powerhouse, as usual. A force of nature; completely at home in a character that is not only a superior and condescending scholar, but also one who repudiates the fact that he is a discontented solitudinarian. This role envelopes Giamatti's wheelhouse and is an exquisite performance; hands-down one of the year's standouts.
The film itself is shot with grainy effects and nuances, giving it the feel of a coming-of-age film from 50 years ago. Yes, authenticity. Wonderful.
As I said before, Payne gives us a story that does not gloss-over the impediments of life or tie everything up in a buoyant bit of fluff. His characters have acne, razor burn, and suffer from depression or come from dysfunctional families; they have driver side car doors that stick and half-used tubes of hemorrhoid cream on display in unkempt apartment lavatories.
Yet, even with the realism, the film ends up being "feel-good": a well-told narrative that ends up making us, well, feel-good.
And there's not a thing wrong with that.
Some who see the film will think it's slow moving and verbose, yet that's what makes it just the right film for our times. In the end, audiences are left with the realities of life, but also a satisfaction that there is indeed hope and healing for the characters; characters that have endeared themselves over the past two hours of the film.
An early offering, but one of the year's best that is worth the ticket price. Go for Giamatti and then delight in the wonder of Sessa's breakout performance.
My grade: A
"The Holdovers" is rated R for drug use, language and brief sexual material and runs 2 hours and 13 minutes. The film opens in theaters on Nov. 3.