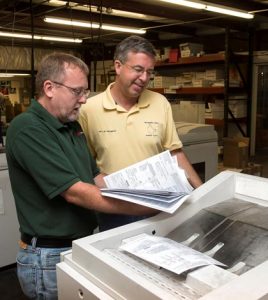 While the late date might have had some Monroe County residents wondering if they were getting a reprieve this year from their property taxes, Monroe County Treasurer Kevin Koenigstein announced the bills are expected to be mailed out later this week. The treasurer's office is set to collect $54.3 million in property taxes this year, up slightly from $51.56 million last year.
These taxes support the local schools, road districts and municipalities, as well as the county itself.
The county's portion of this year's tax bill is up slightly − $6.87 million compared to $6.52 million last year. The county's current tax rate is .88529 percent, which is up from last year's rate of .86320 percent.
"Once again, the county is seeing a slight increase in real estate taxes in most of the communities across the county," Koenigstein said. "The county portion is also up, after three consecutive years of decreases."
First payments are due by Tuesday, Oct. 18, with the second installment due by Friday, Nov. 18. Bills can be paid at local banks, at the treasurer's office in the courthouse, or by mail. For more information, call 939-8681, ext. 213.
"We encourage everyone to pay early if they can," Koenigstein said.
The overall tax rate in Waterloo is down, while the rates in Columbia, Valmeyer, Hecker, Maeystown and Fults are up very slightly from one year ago.
For a breakdown of tax rates in Monroe County municipalities, see the chart below.
*****************
Comparative tax rates for Monroe County municipalities for tax levy year 2015, payable in 2016.
Waterloo taxing districts
Monroe County: 0.88529
School District: 4.29944
SWIC: 0.46629
City of Waterloo: 0.53783
Park District: 0.12820
Cemetery District: 0.00439
Fire District: 0.31365
Total rate: 6.63509
(Real estate tax on a $150,000 home assessed at $50,000 = $3,317.56)
Columbia taxing districts
Monroe County: 0.88529
School District: 4.65295
SWIC: 0.46629
City of Columbia: 0.93397
Fire District: 0.25265
Total rate: 7.19115
(Real estate tax on a $150,000 home assessed at $50,000 = $3,595.58)
Valmeyer taxing districts
Monroe County: 0.88529
School District: 4.56272
SWIC: 0.46629
Vill. of Valmeyer: 0.93617
Fire District: 0.29744
Library District: 0.11977
Total rate: 7.26768
(Real estate tax on a $150,000 home assessed at $50,000 = $3,633.84)
Hecker taxing districts
Monroe County: 0.88529
Waterloo Schools: 4.29944
SWIC: 0.46629
Vill. of Hecker: 0.65222
Fire District: 0.33388
Total rate: 6.63712
(Real estate tax on a $150,000 home assessed at $50,000 = $3,318.56)
Maeystown taxing districts
Monroe County: 0.88529
Valmeyer Schools: 4.56272
SWIC: 0.46629
Vill. of Maeys.: 0.52305
Fire District: 0.43980
Val. Library Dist.: 0.11977
Total rate: 6.99692
(Real estate tax on a $150,000 home assessed at $50,000 = 3,498.46)
Fults taxing districts
Monroe County: 0.88529
Valmeyer Schools: 4.56272
SWIC: 0.46629
Vill. of Fults: 0.44500
Fire District: 0.43980
Road District: 0.60913
Val. Library Dist.: 0.11977
Total rate: 7.97247
(Real estate tax on a $150,000 home assessed at $50,000 = $3,986.24)