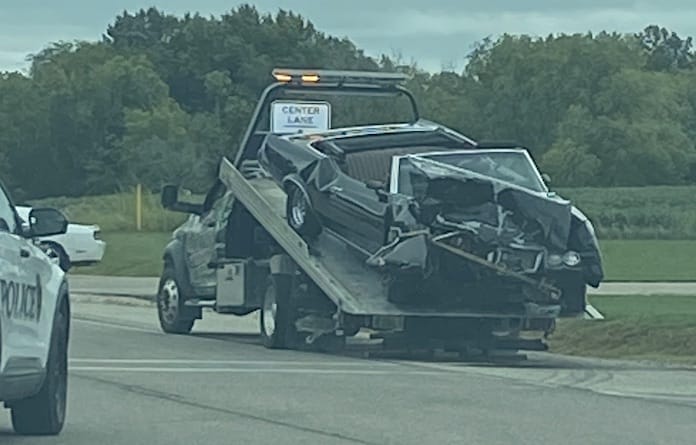 The Waterloo police and fire departments and Monroe County EMS responded early Sunday afternoon to a two-vehicle crash with multiple injuries on Route 3 at Park Street (Route 156).
Police said at about 12:15 p.m., a 1972 Oldsmobile Cutlass convertible driven by Joshua Gregson, 20, of Waterloo, was traveling south on Route 3 as part of the 50th annual Washy Run of several motorcycles and other vehicles when it continued through a red light at Park Street. This resulted in a nearly head-on collision with a 2012 Toyota Highlander driven by Emily Roth, 21, of Waterloo, which was turning left onto Park Street from northbound Route 3.
Gregson and three passengers in the Oldsmobile, all ages 20 or in their late teens, were injured in the crash. Two backseat passengers in the convertible were knocked out of the vehicle by the force of the collision, police said. Their injuries were not considered life-threatening. Gregson's front-seat passenger, a female, was stuck in the vehicle and required extrication.
Police said the three passengers of the Oldsmobile and the driver of the Toyota were all transported by ambulances to area hospitals. Gregson was taken later to a hospital by a family member, police said.
Gregson was cited for disobeying a traffic signal.
Police said organizers of the Washy Run had coordinated with the WPD to direct traffic at busy intersections in Waterloo. Ride participants were advised to wait for officers to close off the intersection of Route 3/Park Street prior to continuing south.
For whatever reason, some ride participants went on without police direction through this intersection, a WPD official told the Republic-Times.