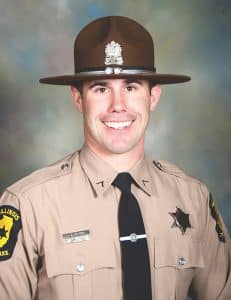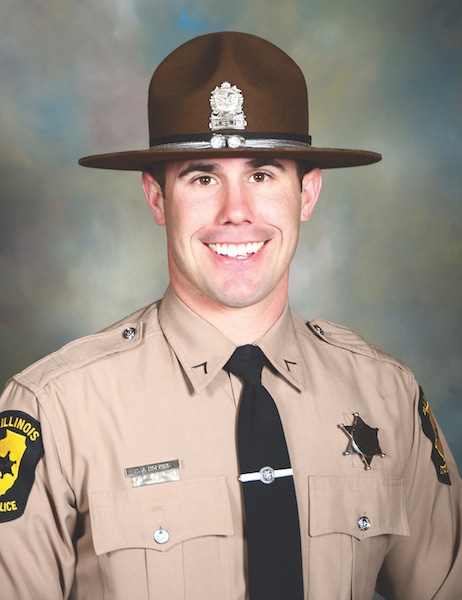 The legacy of late Illinois State Police Trooper Nicholas J. Hopkins has been permanently etched into his hometown of Waterloo since his death in 2019, as now is evidenced by the Trooper Nick Hopkins Memorial Highway.
Nick, who died after he was shot while executing a search warrant in East St. Louis in August 2019, was remembered Thursday as his family, SWAT team, ISP officials and others gathered for the highway's official dedication.
Following a ceremony at Life Community Church in Columbia, Nick's home church, ISP motorcycles led a drive-by procession to the newly-placed sign on Route 3 near GG Road. This marks one end of the seven-mile stretch of Route 3 dedicated to Nick – the other being the intersection of Route 3 and Kaskaskia Road.
"(Nick) would have a smile permanently affixed across his face, and was never one to look for a lot of accolades or praise, but hopefully having his name on the stretch of highway in his hometown will bring him one of those ear-to-ear grins," ISP Director Brendan Kelly said during the service at the church.
This grin was a hallmark of Nick's personality, as friends and family can attest. His mother Verna shared this same bright smile through teary eyes as she told reporters what she hopes individuals think as they drive down the seven-mile highway.
"You can never do a kindness too soon, for you never know how soon it will be too late," she paraphrased the popular Ralph Waldo Emerson quote.
Kelly said the memorial highway will represent different lessons to the thousands who drive down Route 3 every day.
"The letters on this sign will form a message for all who drive past here," Kelly said. "For most, they are a reminder to remember. To the men and women of the Illinois State Police, SWAT, Zone and Patrol, these letters say 'remember your oaths … remember your values of integrity, service and pride. Remember who you've been, who you are and who you must be. Remember Nick.'"
He then directed his words to the people of Illinois.
"As a people we strive for justice – rightly so – we seek freedom – rightly so – but remember there is no justice, there is no freedom, without the law, and there is no law without law enforcement, and there is no law enforcement without selfless servants like Nick Hopkins. So remember Nick."
As Nick's father Jim Hopkins said, his son is largely remembered for being a "lay out man," a perfect standard so many strive to be, but few succeed at, in every aspect of life.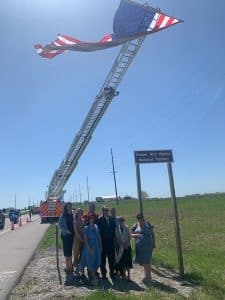 "Nick was good at anything he did," Jim said. "Nick was a tremendous 'lay out' man. He was very, very gifted. He had tremendous vision, coordination and strength – and humor! Oh, he had a great sense of humor, oh my word."
Whitney Hopkins, Nick's wife, echoed Jim's sentiment that Nick perfectly balanced all of life's obligations.
"He mastered the art of balancing life, making time for family and friends all while working hard and providing a better life for our family," she said before the crowd at Life Community Church, previously stating, "He was the glue that held so much of everything together, the go-to person when you needed something fixed or an opinion on how something should be approached."
As Waterloo Mayor Tom Smith – a retired ISP master sergeant – said at Life Community Church, Thursday's events were over two years in the making.
He thanked former State Sen. Paul Schimpf, also of Waterloo, and State Rep. David Friess (R-Red Bud) – who spoke at the church – for spearheading Illinois Senate Joint Resolution 27, which dedicated the portion of the highway in Nick's memory.
State Sen. Terri Bryant (R-Murphysboro), State Rep. Deanne Mazzochi (R-Elmhurst), State Rep. Amy Elik (R-Fosterburg), State Rep. Tony McCombie (R-Savanna) and State Rep. David Severin (R-Benton) are also listed as sponsors.
These efforts culminated in Thursday's dedication almost three years after Nick's death. Now, Nick and Whitney's twins are almost 7, their middle child is 3 and their youngest is 1.
Casen, who Jim called a "miracle baby," was born via in vitro fertilization after Nick's death. He will soon be joined by younger cousins, as two of Nick's sisters are currently pregnant.
"As a grandpa, I'm over the top with joy," Jim said.
Nick's young family members are just a few of the nearly 9,000 people a day who will see the road signs as they drive into Waterloo and the 12,000 who take the stretch of Route 3 on their way home every night, Smith said.
"From the days in the old '68 Chevy to the lights and sirens and flag-lined streets, this highway will forever be you," Whitney said to her late husband at the church.
For a video of the ceremony at the church click here.
For our video of Thursday's procession, click here.