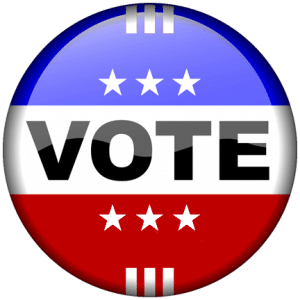 The Tuesday, March 18 primary election will not only decide the Republican nominee for Governor of Illinois in November's general election, but will also do the same locally for two elected Monroe County offices.
There are only two contested local races in the primary — for the Republican Monroe County Sheriff's candidate and Republican Monroe County Commissioner's candidate.
The sheriff's race has drawn the most interest, pitting Fairview Heights police officer and Drug Enforcement Agency Task Force officer Neal Rohlfing of Hecker against Joe Brauer, former police chief in Waterloo and Lebanon, Mo., and homicide detective in St. Louis.
Both are vying for the opportunity to face Democrat challenger Dennis Schreder, a captain with the Monroe County Sheriff's Department, to succeed retiring longtime Monroe County Sheriff Dan Kelley.
Here are profiles containing information provided by both Republican candidates.
Joe Brauer
Joseph "Joe" Brauer, 63, of Waterloo, has 33 years of law enforcement experience, including seven years as a police chief.
Brauer holds a bachelor's degree in administration of justice and has also served as an instructor with the St. Louis Police Academy.
He served with the Marine Corps during the Vietnam War from 1970 to 1972, and with the Army's Third Squadron, Seventh Cavalry in Iraq from 2007 to 2008 as a government contractor through the Law Enforcement Program funded by the special operation Joint Improvised Explosive Device Defeat Organization.
Among Brauer's past or present organizations or affiliations include the Southern Illinois Police Chiefs Association, Missouri Police Chiefs Association, International Association of Police Chiefs, Special Olympics Illinois (Monroe County Patriots) and Waterloo Lions Club.
He is married to Pamela K. Brauer, nee Veath.
Asked why he wants the position, Brauer replied: "This is an opportunity for me to apply my experience as a leader and manager to the sheriff's department. My experience will allow me to increase the capabilities and operations of the department."
Among his listed accomplishments as Waterloo police chief include the creation of the Monroe County Patriots Special Olympics team, developing the WPD's first canine officer, bicycle patrol, Community Emergency Response Team, and hostage negotiator. Brauer also assigned a full-time D.A.R.E./School Resource Office in the schools and designed a "fully equipped" crime scene van for the WPD.
Brauer said that, if elected, he hopes to accomplish a "cohesive department where each employee is empowered to be the best he or she can be," secure the courthouse "where everyone feels safe," and form a team of law enforcement professionals and citizens equipped to fight the war on drugs.
The main issues of this campaign, Brauer said, are leadership and experience skills for the position, fighting the increasing use of drugs in Monroe County, and answering the needs of rural residents "who feel they do not get the patrol they deserve."
Neal Rohlfing
Neal Rohlfing, 36, of Hecker, has served with the Fairview Heights Police Department for 12 years, including two years as Officer in Charge. He has worked two years as an investigator with the St. Clair County Sheriff's Department Drug Unit, four years as a task force officer with the Drug Enforcement Agency and as an assistant team leader-sniper with the Illinois Law Enforcement Alarm System.
Raised in Red Bud, Rohlfing has lived in Monroe County for nine years and his family has farmed in Monroe and Randolph counties for several generations. He holds a bachelor's degree in criminal justice from Southern Illinois University Carbondale.
His parents are Bob and Jane Rohlfing, and he has a large extended family in and around Monroe County.
Organizations or affiliations of which Rohlfing is a current or former member include Fraternal Order of Police Lodge 217, Monroe County Farm Bureau, National Rifle Association, Ducks Unlimited and Hecker Sportsmen's Club.
Rohlfing was named Patrolman of the Year in Fairview Heights (2003, 2004, 2009), was awarded the St. Clair County Drug Tactical Unit Outstanding Service Award (2006, 2007), and received the Fairview Heights Police Department Meritorious Award (2013), Aggressive Criminal Enforcement Award (2003-05, 2008-09) and Southern Illinois Law Enforcement Commission Certificate of Merit (2014).
Asked why he wants the position of Monroe County Sheriff, Rohlfing replied: "We are at a crossroads where many negative outside influences are entering our county. It is happening here. I have the experience, skills and professionalism to be proactive and lead our sheriff's department."
If elected, Rohlfing hopes to accomplish enhanced drug enforcement and education such as joining the DEA Task Force, obtain federal grants for equipment and training, and create a youth and citizen police academy.
"Key to this campaign are preparing for and combating the increasing drug presence, and unity among all of the law enforcement, first responders and schools," Rohlfing said. "Our campaign is about (being) the most qualified candidate for sheriff."
County Board
Two Republicans, one new to Monroe County voters and the other a familiar face, are vying this coming Tuesday for the chance to unseat incumbent Democrat Monroe County Commissioner Mike Kovarik in November.
Bob Elmore, a retired business professional from Springfield who currently resides in Waterloo, is challenged by former county commissioner Frank Kohler of Hecker.
The polls are open from 6 a.m. to 7 p.m. on March 18, and early voting is also offered through March 15 at the Monroe County Clerk's Office inside the courthouse. Call 939-8681, ext. 302, for more information.
Here is a look at the two Republican candidates for Monroe County Commissioner.
Bob Elmore
Bob Elmore, age not disclosed, of Waterloo, is retired from his position as an operations and sales
manager with Anderson News Company.
"I feel that my experience is an asset in seeking public office," Elmore said. "I am a fiscal conservative for smaller government and lower taxes, which should be increased only with the vote and approval of Monroe County residents."
Elmore previously served in the Army National Guard, and was born and raised in Springfield, living there most of his life.
His wife, Shirley (Kueker), is a native of Southern Illinois.  She retired from the Illinois State Senate, where she had worked as a legislative assistant, and the couple moved here in 2008 to be closer to her family. Together, they are the parents of six children and 14 grandchildren.
Current and former organizations or affiliations for Elmore include being a member Our Savior's Lutheran Church in Springfield, editor of the monthly newsletter for the Springfield Area Landlords Association, active member of Immanuel Lutheran Church in Waterloo (serving on Church Council as Chairman of Evangelism Board and the Fellowship Committee), and Monroe County Republican 17th Precinct Committeeman for four years.
"Change has to start at the local level," Elmore said. "Illinois has some of the highest taxes in the country and for the last 12 years, Springfield has mismanaged the money we gave them. We need real change."
If elected as commissioner, Elmore said he would strive to retain Monroe County's small town atmosphere, but is not against progress.
"I would like to make sure that we create an atmosphere in which our local businesses in Monroe County can thrive," he said.
Elmore cited the state's finances, Illinois' high unemployment rate and the second highest property taxes in the country, the federal deficit, the consequences of the Affordable Care Act, and the "out-of-control spending" of the federal government as key issues of his campaign.
Frank Kohler
Franklin E. Kohler, 79, of Hecker, is a retired sergeant with the Illinois State Police and former Monroe County commissioner (1994 to 2006).
A graduate of Ss. Peter & Paul High School in Waterloo, Kohler holds a machine shop degree from Ranken Technical Institute and criminal justice and aviation degrees from Belleville Area College.
Kohler served as county board chairman for three years, and said he was instrumental in projects including the remodeling of the courthouse and its building addition, the Monroe County Annex, the Regional Office of Education in Waterloo, the county highway department headquarters and "most importantly," building and naming the Oak Hill nursing home.
Kohler served in the U.S. Army from 1955 to 1957, and is widowed. His wife, Helen, passed away in November 2012. Kohler has a daughter, Susan Anderson, and son, Brian, and granddaughters Christina and Jessica Anderson.
Among his current and former organizations and affiliations are Knights of Columbus Council 1334, Fraternal Order of Police Lodge 41, Retired ISP Association, Aircraft Owners and Pilots Association, and the National Rifle Association.
"I want to see Monroe County have further orderly growth," Kohler said. "I want to have people come and build homes here, thereby putting the crafts to work. New homes increase the assessed evaluation and lowers taxes."
If elected, Kohler said he hopes to keep real estate taxes down while providing the essential services. He would also make it known that "Monroe County is the place to realize the American Dream. I would utilize the Monroe County Welcome Center for this."
Making sure the county is "running to keel" is one of the key issues of the campaign, Kohler said, and he would see to it that the county employee health insurance is subject to serious bidding.