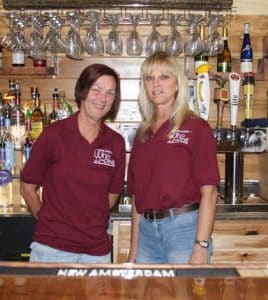 At the eastern edge of Monroe County lies a village with a population of less than 500.
Hecker boasts fertile farmland as a center for agriculture. Short of that, passers-by see a row of houses, a community center, post office, two churches and a tattoo parlor.
Obviously, a new restaurant constitutes a major shift from the norm for Hecker residents. Sure enough, Back Street Wine & Dine, at 310 E. Back Street, immediately drew a local crowd upon its recent opening with a vast selection of wine and live music.
In fact, co-owner Kim Koesterer of Smithton told the Republic-Times in May that her place was so slammed, she was helping bus tables to keep up with the rush.
"You should have seen it earlier," co-owner Robbin Layton of Smithton said last Monday. "Every table Sunday was full, and it stayed that way until close."
The establishment's monumental success happened in no small part because of the food, which includes hamburgers, breakfast, loaded potato skins as appetizers, ribeye steaks for dinner and many other edible delights. Layton noted that some of these items even got people out of their comfort zone as tastes are concerned.
"There was a couple that came in, and the wife ordered meatloaf," Layton said. "She kept telling her husband he should order the meatloaf, but he said, 'No, no. I'm not going to do that.' Well, the food came out, and he kept eating off of his wife's plate. Then he came up to me after and said, 'You know, I hate meatloaf.' I said, 'Oh, I'm sorry.' He said, 'You didn't let me finish. I hate meatloaf, but I love this.'"
However, support received by Hecker residents got the restaurant's foot in the door more than any meal or promotional item the restaurant could offer.
"God bless the village," Layton said. "They've been instrumental in helping us proceed with our plans. They've been very welcoming.
"A woman who lives across the street (from the restaurant) came up to us and said, 'You know, I didn't want you guys here at first,' and I thought, 'Oh, boy,'" Layton said. "And then she said, 'But now, I love it. I never have to cook anymore because my husband just goes across the street for dinner.'"
Koesterer also wanted to point out that the restaurant wants to welcome any type of customer imaginable — not only those who want to come in for a drink.
"We don't want to be known as a bar," she said. "We want to be known as a restaurant that serves alcohol."
Hours of operation for the Hecker establishment are 11 a.m. to midnight Tuesday through Thursday; 11 a.m. to 1 a.m. Friday; 7 a.m. to 1 a.m. Saturday; and 7 a.m. to midnight Sunday. Back Street Wine & Dine is closed on Mondays.
The place offers live music on the weekends, and features an open jam night every Wednesday and DJ karaoke on Thursday nights.
For more information, visit the Back Street Wine & Dine Facebook page at Facebook.com/BackStreetWineandDine.
"You walk around the tables and its 'thumbs up' about 98 percent of the time," Layton said.