'Wonder' is one of best this season | Movie Review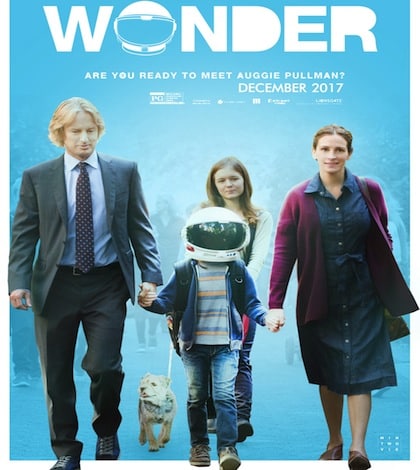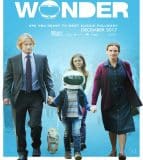 Being a middle school teacher, I'm usually pretty critical of middle school-aged books being made into movies. Really, I'm critical of any books made into movies. The book is always better, and I'm thinking that's the way it should be. I definitely always choose the book, but "Wonder" by R.J. Palacio has been made into a great movie.
"Wonder" tells the story of Auggie Pullman (played by the fantastic Jacob Tremblay), who was born with a congenital deformity that has resulted in numerous surgeries and a somewhat shocking appearance to the first time observer. Auggie is a normal kid otherwise, dreaming of being an astronaut, loving Halloween, and being a Star Wars aficionado. You may notice that astronauts wear helmets, and so do kids in Halloween costumes.
Auggie's somewhat safe, home-schooled life takes a turn when his parents decide he should start fifth grade at a local school where he is befriended and bullied.  Director Stephen Chbosky does a super job of keeping the main focus off Auggie, looking at the story through the eyes of other characters. The entire story tugs at the heart without being too sappy, and even though the movie ends well with everything tied up in a neat package, we are left knowing that there will still be struggles even when we have overcome many of them and had great success.
The performances in this movie are awesome. Julia Roberts and Owen Wilson play Auggie's parents and even though they are in supporting roles, they show us amazing depth and make the most of their part in the story. Performances from Noah Jupe as Auggie's helper-turned-friend and Danielle Rose Russell, who plays the best friend of Auggie's sister, are superb.
The breakout performance of this movie is from Izabela Vidovic playing Auggie's high school age sister, Via. Faced with a life in the shadows due to the needs of her brother, Via plays her character with quiet intensity and is able to bring out so many emotions through her expressions, the most commendable being a deep understanding and compassion for her little brother. I see big things happening for this actress.
Go see this movie! It is, I dare say (and I wonder how many headline writers and reviewers are trying to avoid this word) WONDERFUL.
On a side note, did you notice how many movies have the word "wonder" somewhere in the title? This one is on the top of the heap this season.
"Wonder" is rated PG, but only due to some mild innuendo and some depictions of bullying and harsh words. The movie features Jacob Tremblay, Julia Roberts, Owen Wilson, Izabela Vidovic, Noah Jupe, and Danielle Rose Russell.
My grade: A