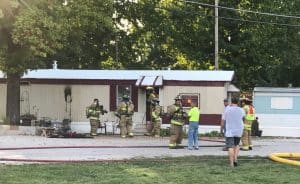 The Columbia Fire Department responded about 6 p.m. Wednesday to a fire inside a mobile home off Ferkel Street. The unit is part of the mobile home court located at 548 South Main Street.
The cause of the fire is undetermined but the flames originated near the stove area, Columbia Fire Chief Mike Roediger said.
Flames were seen shooting out of a small stove vent at the side of the structure upon firefighter arrival, but the fire was knocked down within minutes. The mobile home was unoccupied at the time of the fire. A neighbor was able to get inside and rescue a dog.
"The fire itself was contained quickly with limited damage, but it's a total loss in there," Roediger said. "There was heavy smoke damage throughout."