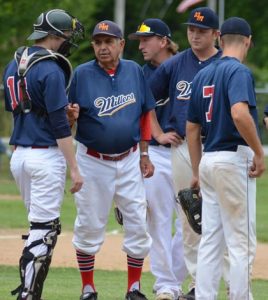 It came down to the final game of the regular season, but Millstadt won the Monroe Division crown by one game over Waterloo by virtue of its doubleheader sweep Saturday against Belleville.
The Millers won both of their games at home against Edwardsville, meaning the Green Machine had to hold serve. Millstadt won two close games against the Rockies, 6-3 and 5-3.
The defending league champion finished the regular season schedule at 19-7, just one game better than Waterloo. The Millers won the season series against Millstadt, meaning a tie between the two teams would result in Waterloo taking the crown.
Millstadt's Ben Hankammer pitched 4 2/3 innings in relief for the win in game one. Otto Roberts pitched five innings to earn the win in game two, with Jared Mueth going 1-for-2 with two RBIs.
The Green Machine offense has turned into a "Murderers' Row" of sorts this season, evoking memories of the vaunted 1920s New York Yankees teams. Millstadt's offense is led by Rob Beatty (.442, 24 RBIs, 20 runs), Tony Kossina (.429, 26 runs, 15 stolen bases), Cal Kossina (.410), Luke Matecki (.406), Mitch Matecki (.397, 25 RBIs), Luke Glaeser (.386) and Mueth (.357, two home runs).
Hankammer and Roberts lead Millstadt's pitching staff…>>>
Read the rest of this story in the August 3 issue of the Republic-Times. If you don't already receive the paper, you can subscribe by calling 939-3814 or clicking here, or pick up a copy at any of these locations.